Easily Melt Away A Full DECADE Of

Stubborn Fat
... By Flooding Your Body With Safe &
100% NATURAL
'Youth Hormones'


That Reboot Your Aging Metabolism!
NO Dieting And NO Exercise Required.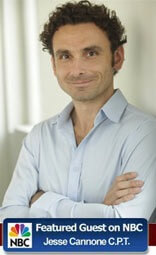 From The Desk Of:
Jesse Cannone CFT, CPRS, MFT
Dear Friend,
If you've ever said, "I just can't eat what I used to...!"
... Then the following ground-breaking weight loss report is FOR YOU!
It's also for you if:
You've been gaining 8 to 15 lbs. (or more) per decade since you turned 30.

You'd describe yourself as a 'carb-o-holic' (carb addict).

You secretly blame your lack of 'will power' for your steadily expanding middle.
... And, perhaps most important, you're chronically unhappy with how you look and feel but you're too tired to do a DARN THING about it!
Because, in a moment, I'm going to reveal a truly ASTONISHING weight loss secret that has the diet industry down on their knees, praying you never discover.
I'm talking about a way for you to lose significant pounds (FAST):
Without changing your diet!
Without exercising more!
... Plus, how to slim down EVEN MORE (once you're feeling excited by the results you've seen) by making small, common-sense adjustments to your lifestyle.
I know this sounds too good to be true...
You've been conditioned to believe 'EASY' weight loss is impossible, right?!
But that's why I need to expose the dirty little secret of the weight loss industry:
Your 'Lack Of Will Power' Is NOT The Problem!
That's right...
... Your supposed 'lack of will power' or commitment to dieting and exercise is NOT the reason you're struggling to shed those unwanted pounds.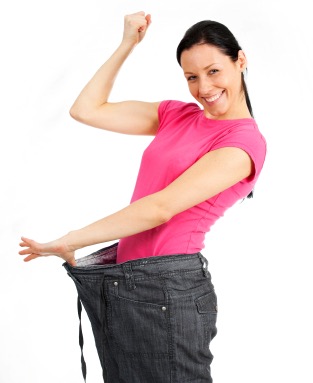 (Really. I'm dead serious. While I don't recommend it, you really CAN continue eating the same junk diet you're likely consuming now... Rarely exercise...
... And potentially still lose a SIGNIFICANT amount of weight
– enough to justify some new clothes – using the secret
I'm about to share with you. Medical science has proven it's completely possible, but more on that in a minute...)
The problem is you've been sold a story that's the foundation of the multi-billion-dollar diet and weight loss industry here in North America.
You've been conditioned to believe that to shed those unwanted pounds:
You need the fad diets (NO!)
You need the celebrity weight loss books (NO!)
You need the pricey gym memberships (NO!)
You need infomercial exercise equipment (NO!)
You need a 'personal weight loss consultant' (NO!)
... And more!
You've been TRAINED to spend $500-$1000+ annually on 'weight loss'.
(Or, if you can't afford all this over-hyped garbage, you've been conditioned to feel bad, believe it's too hard to lose weight on your own, and not bother trying at all.)
When the stunning truth is...
Your Declining 'Youth Hormones' Are To Blame!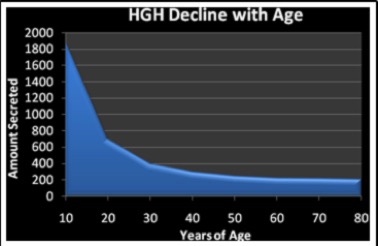 ... When did you start REALLY packing on those extra pounds? Let me guess:
It was sometime between the ages of 27 and 35, right?
How'd I know...?
Because this is when your natural production of 'youth hormones' (also known as HGH or human growth hormones) goes into a steady decline.
Nobody talks about this...
Yet it's no coincidence that around the age of 30, we can suddenly no longer eat 'the way we used to'. We have to exercise WAY MORE to get the SAME RESULTS.
And we suddenly find it difficult if not impossible to lose those extra 5 or 10 pounds we gained on an indulgent vacation with a 'quick crash diet'!
It's No Coincidence The Older You Get
The FATTER You Get!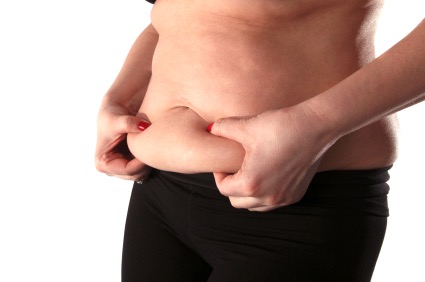 It's all because your HGH 'youth hormones' have gone into steady decline:
Slowing down your metabolism
Packing on the adipose tissue (FAT!)
Shriveling your organs
Decreasing your aerobic capacity
And SHRINKING your muscles
Making you fat... crave carbs... and want to S-L-E-E-P (not exercise)!
(To put it bluntly!)
Just Look At All The Clinical Studies That Link
HGH 'Youth Hormones' To Age-Related Weight Gain!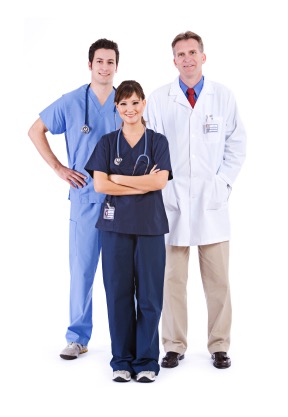 Men who supplemented HGH for 6 months saw 14.4% reduction in FAT and an 8.8% increase in lean body mass – the equivalent to changes incurred over 10-20 years of aging!
-- New England Journal of Medicine (1990:323:1-6 July 5)

Healthy older men who took growth hormone for 6 months increased lean tissue mass while measurably DECREASING FAT!
-- Annals of Internal Medicine (1996: Volume 124 no 8 708-716, April 15)

Growth hormone is shown to measurably REDUCE adipose tissue (fat)!
--The Journal of Clinical Endocrinology & Metabolism (2011: Volume 96 no. 6 1718-1726, June 1)

HGH supplementation significantly reduces whole-body and trunk fat!
--The Journal of Clinical Endocrinology & Metabolism (2009: Volume 94 no. 6 1991-2011, June 1)

HGH secretagogues may improve overall body composition and function!
--The Journal of Clinical Endocrinology & Metabolism (2009: jc. 2008-0632 Volume 1)

HGH supplementation may help REDUCE appetite!
--Journal of Veterinary Medicine & Science (2006 September: 68(9): 959-965)
... And that's just the beginning!
Search the US National Library of Medicine for 'HGH' or 'human growth hormone' and you'll immediately see over 3,969 journal articles referencing medical studies and clinical trials of the endless weight loss, anti-aging, and total body health benefits of these 'youth hormones'!
So Maybe It's Time To Address The REAL Problem:
Weight loss experts and celebrity fitness gurus tell you to EAT LESS... and WORK OUT more!
They give you advice that requires you to make overwhelming changes to your already hectic schedule like:
"Speed up your metabolism with 5 small meals per day..."
"Do aerobic activities 4-6 times per week..."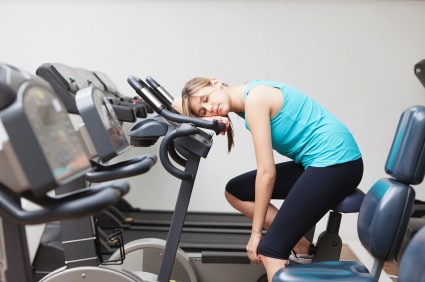 "Lift weights 2-4 times per week..."
But GEEZ...! Isn't this impossible to maintain???
If you're already feeling exhausted and out of shape, adding 14 NEW meals to your week... 5-7 separate workouts... plus a completely NEW meal plan...
... It's all really HARD!
(Suddenly... you're even MORE tired and the Carb/Sugar beast within you is raging for a large extra-toppings pizza and a long snooze!)
And it's frustrating...
Because you didn't have to eat and exercise like a fitness-crazed MANIAC when you were younger, right? Looking and feeling good used to be EASY!
But now...? Well, maybe that's the key:
Maybe the secret to losing weight lies in our YOUTH!
Use 'Youth Hormones' To Release The Brakes
On Your Weight Loss!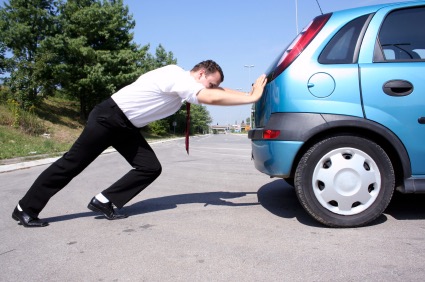 Trying to lose weight without first dealing with your declining HGH 'youth hormones' is like trying to push a parked car down a long hill.
With extraordinary effort, you might nudge the car forward an inch...
... But it's really not going anywhere until you release the parking brake!
And then suddenly – it's EASY– gravity is doing all the work FOR YOU with minimal steering and pushing on your part.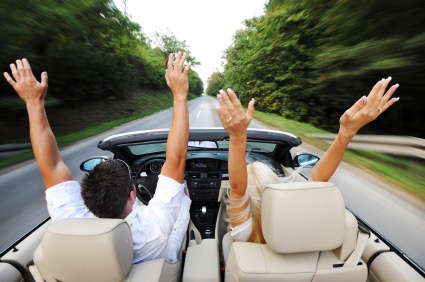 This is what raising your levels of 'youth hormones' with the help of ThinMist™ can potentially do for you:
It can literally RELEASE THE BRAKES on your weight loss!
So instead of trying to force the weight off – using will power, extreme dieting, and a life-consuming exercise program...
... You can let the HGH 'youth hormones' help your body release the weight NATURALLY!
How Increasing Your Levels of 'Youth Hormones' With
ThinMist™ Can Help You Release Stubborn Fat: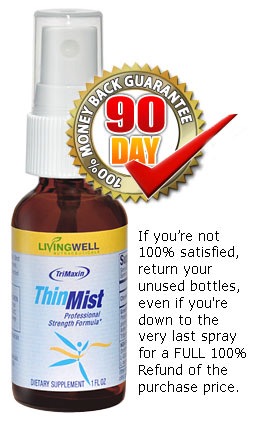 Speeds up your metabolism to more youthful levels... so you naturally burn calories FASTER, like you did in your teens and 20s!

Increases your aerobic capacity... so it's EASIER and more enjoyable to exercise!

Replaces FAT with calorie-burning lean muscle... sculpting your body while further boosting your metabolism!

Improves your sleep quality... mood... and energy levels so you naturally start feeling better about yourself and making HEALTHIER CHOICES!

Reduces cravings and tames your inner Carb Monster by helping regulate your blood sugar and serotonin ('happy hormones').
... So instead of 'forcing' the weight off, suddenly it's EASY:
The pounds slide off – taking years off your appearance.
Your clothes start fitting better.
And instead of feeling exhausted – you're energized. Motivated by the results. And eager to make healthier lifestyle choices.
Because you're already seeing results!
A 100% NATURAL Way To Boost 'Youth Hormones'

... WITHOUT Actually Taking A Hormone Supplement!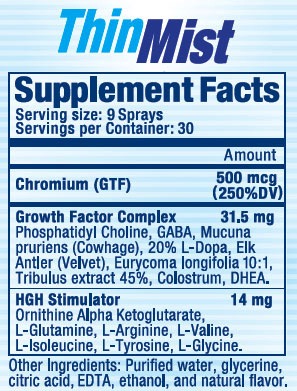 The genius of ThinMist™ is that it's a 100% natural way to safely boost your pituitary gland's NATURAL release of HGH 'youth hormones'...
... using a complex series of 7 known 'HGH precursors'.
You simply take ThinMist™ three times each day by spraying it under your tongue. (Easy.)
And as the ingredients slowly build up your system, your body NATURALLY begins releasing more youthful levels of HGH.
So instead of injecting a foreign source of HGH (a.k.a. 'somatropin') with a doctor's prescription...
... With ThinMist™, your body NATURALLY regulates its own production of HGH!
So you have the opportunity to enjoy all the weight loss and anti-aging benefits of boosted HGH production – without the pain or cost of injections (which run $12,000 to $25,000 annually).
Plus – A 'Feel Good' Formulation That Eliminates Your
Cravings And Boosts Energy – With NO Caffeine Or Ephedrine!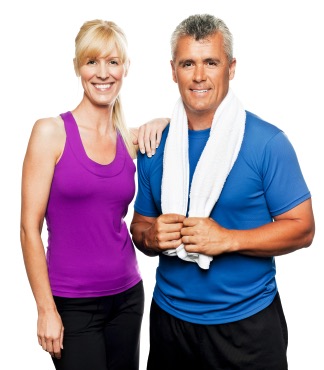 Of course, what makes ThinMist™ truly revolutionary is its NATURAL approach to dealing with the biggest enemies of any successful weight loss program:
Cravings, low energy, and lack of motivation!
Because instead of getting you jacked up on caffeine or ephedrine (like so many diet pills you'll find on the market today)...
... ThinMist™ has been scientifically formulated to NATURALLY help boost the chemicals and hormones that regulate your blood sugar levels, energy and mood!
So instead of relying on artificial stimulants that leave you feeling jittery and queasy once they've left your system, ThinMist™ helps regulate your production of insulin, dopamine, serotonin and other catcholamines...
(And, of course, HGH 'youth hormones'!)
... So that you feel NATURALLY energized and motivated, without crazy highs and lows!