Which Pain Relief Formula is the REAL DEAL?
You Be the Judge...
Wouldn't it be so much easier if you could toss that fistful of supplements...
And instead take an ALL-IN-ONE pain relief solution that can restore your healthy joints and offer you pain-free living?
THE STRAIGHT TRUTH: 63.8% of our customers would recommend Super Joint Support® to their family and friends.
Super Joint Support® is an ALL-IN-ONE formula with a unique combination of the best and most advanced nutrients to deal with all three steps for achieving pain-free healthy joints and a lifetime of youthful mobility and flexibility. It's the only solution you need. Let me remind you how our exclusive Super Joint Support® formula helps fight pain on 3 crucial fronts:
STEP 1: Super Joint Support® relieves the throbbing pain and inflammation that hits you every day.
STEP 2: Super Joint Support® rebuilds damaged cartilage to restore joints to youthful mobility.
STEP 3: Super Joint Support® is literally jam-packed with vitamins and minerals to build and maintain healthy, steel-strong bones.
Please understand, it's NOT a quick fix. This remarkable Holy Trinity formula offers the promise of long-term, even PERMANENT pain relief. Simply use as directed for optimal results.
If you look at only one chart or table this week, I hope it's this one. It tells you more than you can get in a mountain of books – or confusing promises...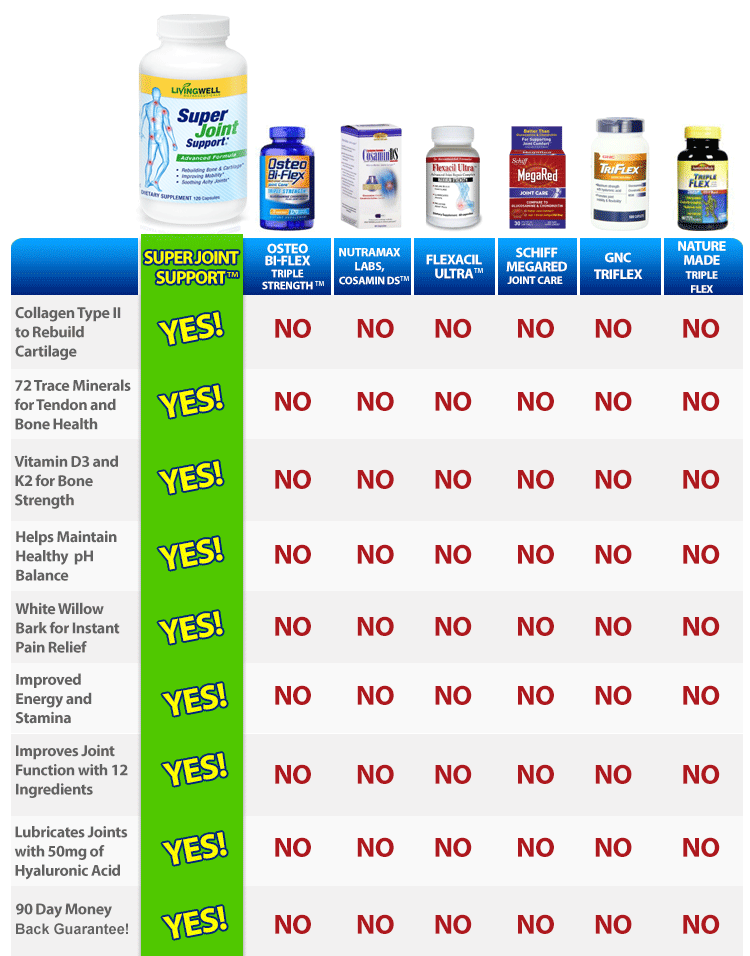 BONUS: A Welcome Dose of Essential Vitamins for All Americans Over 45
Strong Bones with "Sunny" Vitamin D

Vitamin D is often called the "sunshine" vitamin. That's because spending as little as 10 minutes a day in the sun can help your body synthesize the vitamin D it needs. But that's difficult to do – especially in colder climates or if you use sunscreen. But getting enough Vitamin D is vital to keeping your bones strong and healthy as you age. That's because vitamin D boosts your body's ability to absorb bone-building calcium straight from the foods you eat.
If you don't get enough vitamin D, you can suffer from bone loss or your bones become brittle and break easily. Super Joint Support® gives you 950 IUs – the full recommended dosage of vitamin D so your bones stay strong.
Vitamin K2 "Turns On" Your Bones

Vitamin K2 is needed for healthy new bone formation. Your body uses osteoblast cells to build healthy new bone to replace the bone mass you lose. To do this, osteoblasts use a protein called osteocalcin which attracts and anchors calcium into your bones. Vitamin K turns on the bone–building osteocalcin to get busy building new bones.
A study out of Japan showed that combining Vitamin K2 with Vitamin D increased bone mass significantly better than taking Vitamin K and Vitamin D alone - in as little as 6 months.
Vitamin B12 for Bones of Steel

Vitamin B12 makes sure your body maintains the proper levels of an amino acid called homocysteine. Why is this important? If you have too much homocysteine, it can build up in your bones – preventing the collagen from building strong new bones. Your body builds weak, brittle bones instead. Vitamin B12 keeps your homocysteine levels in check so your body can build healthy bones.
You have probably heard of these vitamins before. Now you know how great they are for repairing and maintaining strong healthy bones. But this next ingredient is truly at the heart of our Step 3 solution to lifelong bone health... and eternal freedom from pain. But you won't find it anywhere else. It's so rare and exotic that no other formula uses it. Big Mistake!
In fact, Super Joint Support® is the ONLY joint health product available that includes this remarkable healing gift from the sea..
Ancient Ionic Sea Minerals Help Keep
Your Joints Pain Free and Super Flexible
"How this ALL-in-ONE formula nourishes your joints, cartilage and bones for a lifetime of pain-free, youthful movement!"

"Finally... A joint pain product I can wholeheartedly recommend! Super Joint Support® combines some of the most effective remedies for rebuilding cartilage, tendons and bone for a true "all-in-one" solution. Plus as with all of the Living Well Nutraceuticals products, they use only the highest-quality ingredients in the right amounts and a

rigorous testing process. If you're looking for a safe but effective joint pain solution, look no further."
- Dr. Mark Wiley, PH D

Minerals are the basic elements of life. They are found in everything on earth, including you. Think of the everyday minerals you may know... calcium for your bones... iron for your blood... boron to metabolize calcium... and so many more.
Your bones need these trace minerals as raw material to build healthy, stronger bones to replace the bone mass we lose as we age. We call them trace minerals because you only need very small amounts to keep your bones and body healthy. Plus, healthy levels of minerals keep your body in proper pH balance which is so important for maintaining strong bones. For example, if your body becomes too acidic, it will strip your joints of moisture to rebalance pH. This leads to joint pain.
Your body will also steal calcium and other minerals from your bones to restore pH balance. This theft leads to brittle, breakable bones... and a lifetime of pain. Yet research indicates 95% of us are woefully deficient in at least one mineral, and most likely, a host of trace minerals. These trace minerals used to be abundant in soil, but sadly no more. So where can you find them today?
Ancient Ionic Sea Minerals contain a unique trace mineral found from the sea. The minerals are at trace quantities and are insignificant alone, but within a multi-mineral matrix they work synergistically and give a powerful boost to the action of the calcium and magnesium.
All the extraordinary ingredients in Super Joint Support® I shared with you would already give you the strongest, most effective joint health solution on the market today.
But by adding Ancient Ionic Sea Minerals – A truly one of a kind blend of 72 of the most powerful all-natural trace minerals in the world... well, that truly puts the "super" in our Super Joint Support® formula.
You won't find these minerals combined in this patented formula anywhere else... except in our Super Joint Support®. Just take a look at a few of the minerals contained in this amazing formula...
Calcium – For healthy teeth and bones! Also helps regulate nerve function.
Magnesium – helps relax muscles and stimulate enzyme production! Also promotes healthy bowel function.
Manganese – promotes healthy bone formation... supports growth of healthy connective tissue… and boosts calcium absorption!
Boron – helps metabolize calcium and magnesium; critical for healthy membrane function.
Phosphorous – helps repair damaged cells and promotes healthy new cell growth!
Iron – to transport oxygen to the cells in your body!
Zinc – to boost white blood cell production in your immune system!
Potassium – a natural pain desensitizer! Helps ease headaches and migraines and promotes faster healing of injuries.
Copper – Essential for healthy function of proteins and enzymes! Also aids in the absorption of iron.
Selenium – Powerful antioxidant! Helps vitamin E protect cells and connective tissue by destroying free radicals!
Alfalfa leaf – has a strong alkaline effect on the body! Also a natural laxative and diuretic that helps detoxify the body – especially the liver!
Plus 61 more powerful trace minerals!
Do you remember your last beach vacation? How wonderful it was to dip in the salty ocean waves? How great your body started to feel – like it had been renewed?
Well my friend, the scientific reason you feel so great at the beach is because your body is getting a taste of the rich minerals hidden in the salt water. Remember, the Ancient Ionic Sea Minerals you find in Super Joint Support® have 8 to 10 times the concentration of minerals you'll find in other products. The mineral health benefits in Super Joint Support® are like spending a week at the beach – without the sunburn.
FINALLY, YOU CAN NOURISH AND

(bone, ligament, tendon, muscle and cartilage)
PROTECT EVERY PART OF YOUR JOINT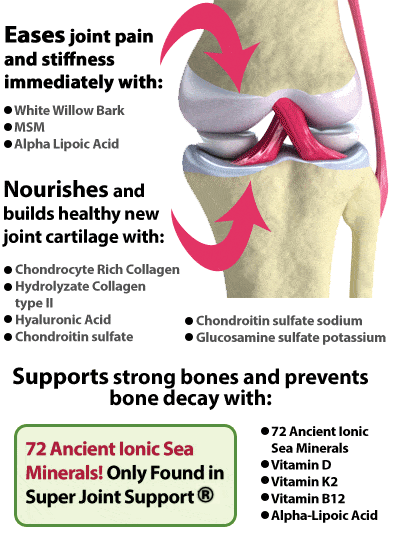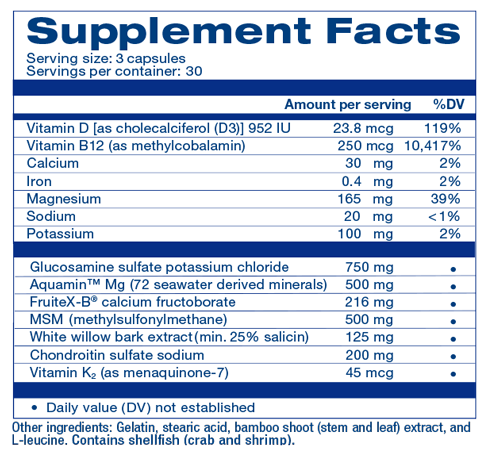 Finally, Joint Pain and Stiffness are Gone!
Are you starting to feel my excitement? Imagine how great it will feel to wake up each morning free of annoying pain, aches and stiffness. Very soon, you'll be able to do those everyday things you used to take for granted...
You'll be able to bend down and pick up a pen without a lightning bolt of pain. You can enjoy a sunny day by taking the dog for a vigorous walk around the block. You'll rediscover the mobility to work and play like you did 30 years ago. Plus you'll sleep like a baby the whole night through because your joints are soothed, nourished and refreshed. You will feel better, more alive, than ever.
When pain is banished and you can move with ease and comfort, your life improves dramatically. You'll want others to know about the relief you've experienced thanks to Super Joint Support®.