Still not sure, keep reading...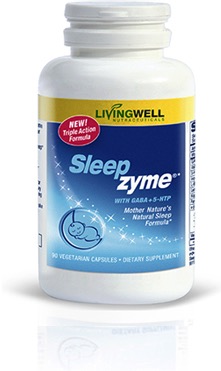 Sleepzyme - The Most Powerful,
Natural Sleep Aid.
FREE Natural Sleep Aid
Here's How You Can Finally Get
A Good Night's Sleep...
And Without The Dangers of
Addictive Prescription Medications.
Dear friend,
If you have trouble falling asleep or staying asleep, or both, I'd like to send you a FREE bottle of our natural, and extremely effective sleep aid, Sleepzyme.
That's right, free.
Sounds crazy I know, but the fact is, I know that once you try it you'll just love the way it works. Here's why:
You'll find falling asleep is easier
You'll achieve a much deeper and more restful sleep
You'll wake up feeling great and full of energy
Unlike most natural sleep aids that only have one or two ingredients that help to improve sleep, our formula includes eleven! But more importantly, Sleepzyme includes a special blend of enzymes that are designed specifically to breakdown the ingredients so your body can utilize more of them and faster.
And, each of the ingredients in this formula have been proven to be safe and effective at improving sleep. In fact, people throughout the world have been using them for thousands of years.
But our research has found that together with the enzymes, they work synergistically to provide even better results. And unlike prescription and over-the-counter sleep aids, Sleepzyme works without the dangerous and harmful side effects and is NOT addictive.
Here are the ingredients along with a brief explanation of how they work and why they were included in this formula. I've also included a copy of the "supplement facts" label so you can exactly what's in the product.
Our natural sleep improving formula includes: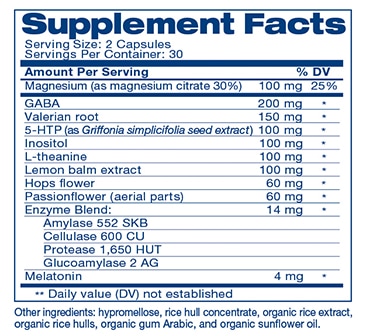 Unlike other sleep aids, we show you exactly how much of each ingredient is in the product.
Melatonin - a hormonal substance produced by the pineal gland that regulates the body's circadian rhythms, which regulate our sleep cycles. Since our melatonin levels decrease as we age, it's no wonder melatonin has proven in so many studies to be effective at improving sleep..
Hops Flower - has a long history of use as a digestive aid, infection fighter, sedative, and menstrual promoter. Studies have shown that hops help to support normal sleep patterns.
Passionflower - has been consumed since the time of the Incas as a soothing tea and to treat bruises. Europeans adopted the herb as a sleep aid and digestive aid. Evidence suggests that passionflower may be a useful supplement to promote healthy sleep patterns.
Valerian - is a root powder that has been traditional used as a sleep and relaxation aid. Scientific evidence suggests that valerian may improve the quality of sleep and help to reduce the time needed to fall asleep when taken nightly.
Magnesium Citrate - Boosts And Activates Your 'Sleep Hormone' (i.e. Melatonin) While Relaxing And Calming Your Nerves!
GABA - Improves Your MOST VITAL Stage Of Sleep (the Delta Phase), 'Shutting Off' Brain Activity While Reducing Feelings Of Anxiety That Keep You Awake!
5-HTP - Helps Your Body Make Serotonin And Melatonin, Increasing Your REM Sleep By As Much As 25% - So You Sleep More Deeply And Wake Feeling More Rested!
L-Theanine - Boosts Your 'Alpha' Brain Wave Activity, Helping You To Relax And Drift Off To Sleep With Ease ' And Enjoy Greater Focus In The Morning!
Lemon Balm - used since the Middle Ages, lemon balm has been used as a tranquilizer, sleep aid and to treat inflammation, headache and assorted infections. Studies have shown that when consumed with other calming herbs like Hops and Passionflower, individuals reported significant sleep improvements as compared to the placebo group.
Inositol - is a sugar alcohol that plays an essential role in phospholipids and recent scientific research suggests that inositol helps establish healthy cell membranes, which facilitate nerve impulses and can help support normal sleep patterns.
e-d-s enzyme blend - a special blend of enzymes called eds, which stands for enzyme delivery system, work to breakdown the ingredients so more of the ingredients are absorbed and utilized. This results in far better results than other natural sleep aids and delivers improvements faster.
But will it work for me?
Maybe you have doubts that a natural sleep aid can really improve your sleep. Or maybe you've tried another formula that just didn't work for you. Well, all I ask is that you give Sleepzyme a chance to demonstrate what the right formula can do for you.
And I'm so sure that it'll help you that I'm willing to give a full, 30 day supply for FREE! This way you can see if this is right for you or not... if you are one of the very few who don't see improvement, you're out nothing.
Don't take my word for it...

Try it for FREE and you be the judge!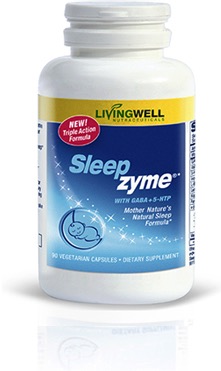 FREE TRIAL 30-Day Program!

You get 1 bottle - a 30-day supply
Regular Price: $33.95
Today's Price: FREE
Just Pay Shipping!