If you are suffering from any type of back pain or sciatica and would like to be able to sit without pain, I highly recommend you try this seat cushion. After testing dozens over the years this is the one that we (and our customers) have found works the best.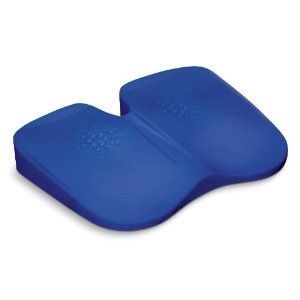 Coccyx Relief Cutout - The "Zero Pressure Tailbone Cutout" for coccyx area, minimizes direct contact between the sensitive tailbone area and the seating surface. This reduces uncomfortable stress and pressure which can build-up during prolonged seating.

Highly Resilient MaterialHigh-Density foam provides better support and even distribution of your body's weight, reducing uncomfortable pressure points around the pelvic bone.

Cradling Edge Design -Graduated edge of seat cushion positions hips for better alignment and posture.

Contoured Surface -Curved front design avoids pressure on lower thigh.

Anatomic Shape -Anatomic shape contours to fit the curves of your lower body for a comfortable seat - anywhere you go... home, work, car or plane!

Breathable Cover -Soft, breathable cover to ensure all day comfort.

Wedge Shape -Angled wedge design rotates your pelvis, reducing strain on the lower spine. Helps restore your lumbar curve and comforts spinal discs.

New Surface Dimples! -Enhance softness and air ventilation

These specific Dimensions -allow it to work with almost every chair: 16 x 14.5 x 2.5