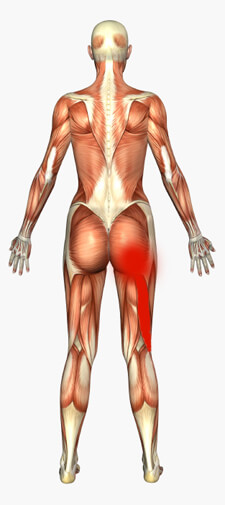 Dear Frustrated Sciatica Sufferer,
When Brenda first contacted me, she was a broken woman – without hope of ever being pain-free from the "burning rope" sensation running down the back of her left leg.
She had felt this pain for the past 24 years and had done everything her well-intending doctor recommended: Physical Therapy, Chiropractors, Neurologists, Pain Killers, Cortisone injections, and much more.
And after years of spending a tremendous amount of money on all of these experts and treatments, her doctor delivered a final blow that felt like a life-sentence of suffering was the best she could expect out of the remainder of her years: "I just don't know what to do with you anymore, Brenda".
The air had just been taken out of the room. She had spent thousands and the pain only got worse over the span of 24 years. Why was no one able to help her get relief from sciatica? At this point in her life, she said: "I can't lift my leg up high enough to put clothes on..."
The year was 2004 and upon returning from the doctors she decided to begin searching online for answers herself. That's when we met.
An admitted skeptic, she was almost afraid to try my advice. It seemed so simple that she thought surely nothing would come from it. She wanted so desperately to get some help and she didn't want to be let down.
But the pain was so bad she knew she couldn't give up and had to do something.
And that's when Brenda made her dramatic breakthrough after reaching out to me.
Within just days of working with me over the phone and following my protocol she found real, lasting sciatica relief.
She didn't need any pills or any special equipment. All she did was follow my easy-to-use program from the comfort of her own home. She never even left her house to see me.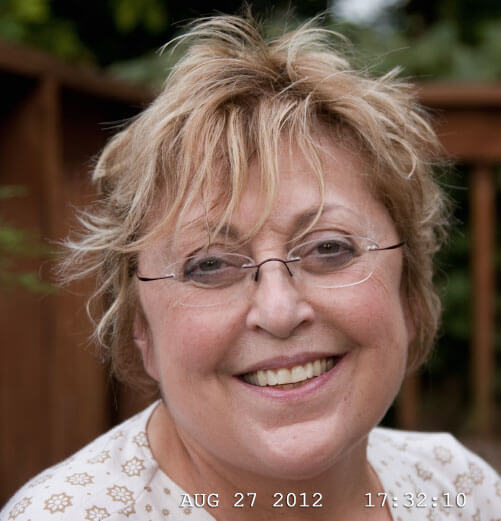 Today, life is back to normal for Brenda. She doesn't live in pain any more. And she couldn't be happier. I hear from her quite often and we've remained good friends.
Yet Brenda's story is far from unique.
As co-founder of the Healthy Back Institute®, I've helped over 64,000 sciatica sufferers – people just like you – get fast relief from the pain. And I hear from others like Brenda nearly every day.
The reason my approach helps so many quickly relieve sciatica pain... even those who have suffered for years... is because I start by helping you...
Uncover the Hidden Cause of Your Sciatic Pain
When it comes to sciatica, one of these four main conditions are likely behind your pain:

Piriformis Syndrome

Herniated Discs

Spinal Stenosis

Isthmic Spondylolisthesis
Yet in the vast majority of all four conditions, the problem can be traced back to the same primary cause: muscle imbalances.
But here's the kicker. Doctors, chiropractors and massage therapists are rarely trained how to recognize muscle imbalances much less how to correct them.
They focus on treating the symptom, not the dysfunction in your body that is causing it to send pain signals to your brain.
Furthermore, and sadly, they would not be able to stay in business if they cured you in just 1 visit, even if they knew this information. This is why it is highly ignored.
Which means they'll continue to offer the same ineffective sciatica treatments: More pain pills. More expensive doctor, chiropractor and massage visits. Maybe even surgery.
Let me offer you a better way.
Correct Your Sciatica at It's Source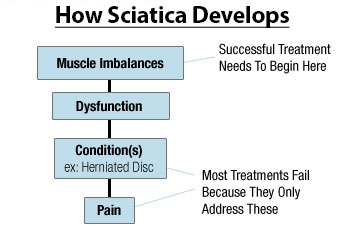 The reason most treatments fail to relieve sciatica for good is they work on the wrong end of the problem. They focus on the pain. And possibly the direct condition, like a herniated disc.
However, these "solutions" don't answer key questions like...
WHY is your piriformis muscle pressing on your sciatic nerve?
Or, what CAUSED your disc to bulge or herniate?
Without answers you're looking at temporary relief at best.
That's because the muscle imbalances that caused your painful condition in the first place won't disappear on their own. Instead, they'll continue to pull your body into an abnormal posture, called physical dysfunctions.
Here's What Happens
When Your Muscles Are Out of Balance...
Simply put, a muscle imbalance occurs when one group of muscles work harder than they should... while other muscles don't work hard enough!
You see, the muscles in your body work in balanced symmetry – much like the wheels of a car.
When the wheels are out of balance, you'll begin to notice uneven wear on the tires.
The car will start to pull to one side... you'll get poor gas mileage... and you run the risk of doing permanent damage - a complete tire blowout!
The same is true with the muscles in your body. When some muscles don't function as they should, the others have to pick up the slack. And that leads to an entire cascade of problems.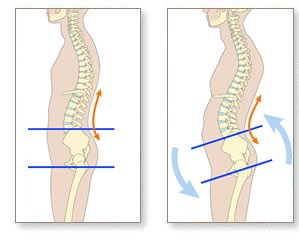 First, muscle imbalances place your body under constant and uneven stress and strain.
Physical dysfunction begins as this constant strain pulls your spine and body out of its natural alignment.
This increases stress on your other muscles, bones and joints.
Over time, even the smallest muscle imbalance can pull you out of balance and place tremendous amounts of uneven pressure on your body… especially the vertebrae, discs, spine and its supporting muscles.
As a result, you can experience any number of problems including lower back pain... sciatica pain... sore, achy joints... poor posture... chronic fatigue... low energy levels and MUCH more.
Now you see why focusing on a condition like a herniated disc likely won't correct your sciatica for very long. The same forces that put your spinal disc under pressure in the first place are still there... until you correct the muscle imbalance.
Your Path to Lasting Sciatica Pain Relief
Your body is its own best doctor. Pain is simply your body's cry for help.
One of the best ways to speed healing and end pain is to remove the obstacles preventing good health. For back, neck and sciatica pain that means rebalancing out of whack muscles to relieve the pressure.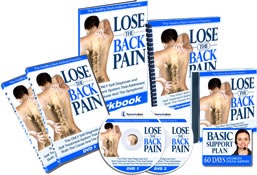 Often one stretch can provide instant relief.
You might find some of the more popular sciatica stretches online. Or you may get a generic sheet of exercises from your doctor.
But a word of caution: that's an incomplete solution.
Muscle imbalances are just that: an imbalance. One set of muscles are overworked and become stronger and tighter. At the same time, opposing muscles are constantly pulled on, stretched out and weakened.
It's this interplay between your muscle systems that leads to tell-tale physical dysfunctions. Identify these and you'll know exactly which muscles you should stretch and which you must strengthen.
Stretch or exercise them all equally – or worse, use the wrong stretch or exercise – and you not only won't help your sciatica you could make your pain worse.
This is why...
There is NO One-Size-Fits-All Stretch or Exercise For Sciatica!
This is where our Lose the Back Pain® - Sciatica Solution comes in.
In it you'll not only discover how to identify which physical dysfunction(s) you have... by assessing your own body via our proven techniques. This assessment alone is what sets us apart from ANY other sciatica book or program.
One you know exactly how your body is imbalanced, you'll then receive the exact stretches and exercises to reverse your own specific muscle imbalances. You'll also learn which exercises and stretches you need to absolutely AVOID because of YOUR particular imbalance.
I'll explain exactly how it works in a minute. But first, I want you to know...
This Will Work For YOU Even If
Everything Else You've Tried Has Failed!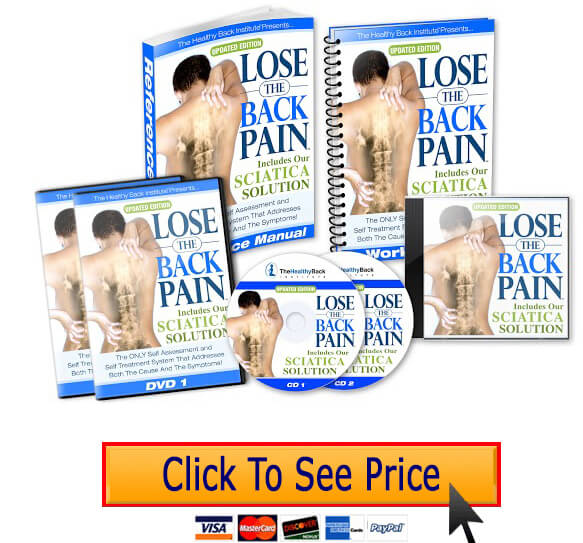 Right now, before you read another word, I want you to understand that regardless of how long you've suffered from sciatica pain, there is hope.
I've helped others who've suffered with sciatica for 5... 10... 20 years and longer get lasting relief.
Some, like Brenda, got immediate relief. Others took a little longer to end their sciatic pain. But almost everyone who follows my step-by-step program gets significant, lasting sciatica relief.
We recently surveyed over 4,000 current clients using the program and found over 2/3rds of those who tried my system had suffered for years before finding us.
One question asked what they had tried already. Besides the standard answers we supplied like chiropractic care, back surgery, acupuncture, physical therapy and others... the list of alternative therapies they told us they had already tried filled 33 pages of the final report.
Yet the most important answer we found from the survey was this:
When nothing else worked... Lose the Back Pain® - Sciatica Solution did!
All with no pills... no special equipment... and no doctor visits. Best of all, they now know exactly how to beat sciatica pain if it ever comes back.
But don't take my word for it... listen to our relieved customers explain in their own words how the Lose the Back Pain® - Sciatica Solution helped them beat sciatica, back pain and more...
Listen to Doris and others explain in their own words how the Lose the Back Pain® - Sciatica Solution helped them beat sciatica, back pain and more...
67 Year Old Gets Rid Of Sciatica
The Next Day!
31 One Year Mary Ends Agonizing
Sciatica Caused By 1st Pregnancy
52 Year Old Firefighter Eliminates 5 Year Back Pain By Ditching His Doctors
29 Year Old Matt Gets Rid Of Back Pain He'd Had For Over A Year!
3 Simple Steps... And You're Out of Pain!
I want you to have the same pain relief so many others have experienced. But you have to commit to taking three simple steps to get it.
You'll find all three in your copy of Lose the Back Pain® - Sciatica Solution.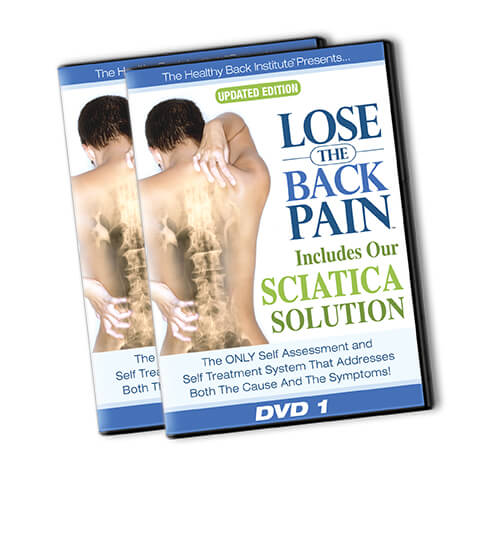 Step #1: Identify What Caused Your Sciatic Pain – And Fix It!
Your first step to a pain-free life is to watch the 2 Online DVD's – jam packed with well- researched information about muscle imbalances and how they are causing your specific type of pain.
These educational Online DVD's walk you through a series of self-assessments designed to help you pinpoint which physical dysfunctions you have.
Basically, just sit back, watch and learn.
You'll receive a straightforward workbook to help you keep track of your findings – and keep track of your progress.
But that's not all!
Once you've identified your physical dysfunctions, you'll discover a customized series of corrective exercises... stretches... and self-treatments unique to your condition.
That means you'll be armed with the tools you need to help rebalance your body and wipe out your pain – for good!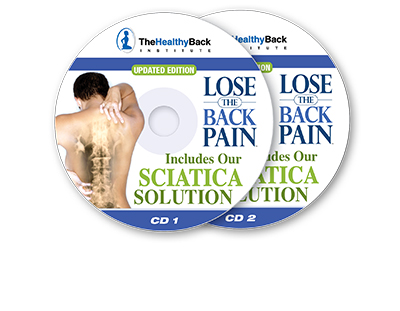 Step #2: Arm Yourself with Over a Dozen More Pain Relief Strategies
That's right!
In addition to the two program Online DVD's, you also get 3 audio programs.
In addition to the two program Online DVD's, you also get 3 audio programs.
Each of these programs contains our latest coaching... techniques... and treatments that have been clinically-proven to help you STOP pain BEFORE it starts!
Plus, you'll also discover:
The all-natural remedy that soothes herniated and bulging discs! Drink this throughout the day to experience greater flexibility - and higher energy levels, too!

Doctor-proven treatment relaxes the back – and eliminates spasms! Works on folks in their 70's...80's... 90's and beyond!

The shocking truth about your pain-killers! What you must know before you take another over-the-counter anti-inflammatory!

Common mistakes in exercising that cause MORE pain - instead of relieving it! Plus, find out about the "one thing" you MUST eliminate for at least a week until your pain decreases.

Over 25 delicious foods that soothe your back pain (and the popular foods to avoid like the plague).

And many more proven pain reduction techniques!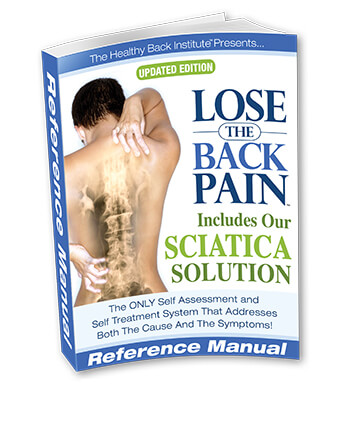 Step #3: Stay Out of Pain with Your Copy of the "Back Pain Bible"
Last but not least, Lose the Back Pain® - Sciatica Solution contains an in-depth reference manual that many of my clients refer to as their own personal "back pain Bible."
Why?
Because you get all of your personal corrective exercises... stretches... and pain reduction strategies included in ONE extensive manual for easy access - whenever you need them!
Plus, you get diagrams... photos... and charts that illustrate every step of each technique mentioned in the Lose the Back Pain® - Sciatica Solution program – so you'll never worry about how to perform each exercise properly.
Everything you need to end your sciatica pain and return to the pain-free life you've been searching for is included. Nothing is left out.
In fact, you'll discover that Lose the Back Pain® - Sciatica Solution helps with much more than just sciatica. Use it for...