Still not sure if this is right for you?
Over 64,182 People Have Used The Lose The Back Pain System To Eliminate Their Pain... Many Times In Just Days!
Now You Can Too... And You Don't Pay A Single Penny Until You're 100% Satisfied!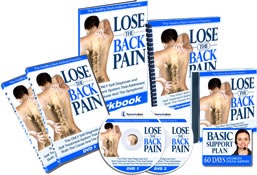 Let me take every single ounce of risk off your shoulders... and offer you a limited-time chance to test-drive the "Lose The Back Pain System" FREE... for 30 days.
If you don't find the relief you're looking for in those 30 days, simply let us know and you'll never have to pay a single penny. No hoops to jump through, no hassles, no strings attached.
In other words... you either get exactly what you're looking for - relief from your pain - or you don't risk a single penny. I'd say that's a pretty fair deal... one that our competitors are too afraid to make!

Over 64,182 People in Over 120 Countries Have Used The Lose the Back Pain System To Get Relief From Back Pain And Improve Their Health And Well-Being...
Tens of thousands of people from all over the world have now used this proven system to get rid of their back pain and sciatica. Many of these people had suffered for years and had tried every possible treatment available before finally using this system.
Maybe your situation has been similar... if so, you need to take control of your back health and get started using this system right away... Here's a brief description of what the system is and how you will use it to get rid of your pain...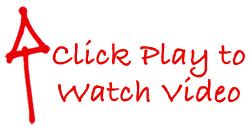 It was developed by a team of leading health, fitness and medical professionals and has proven to be far more effective that any other treatment approach being used today.
The system is safe, extremely easy to use and understand, and most importantly, it gets great results because it addresses the underlying cause of the problem... not just the symptoms...
It consists of a series of Self Assessments or tests, you can do on your own, in the comfort of your own home, to identify the physical dysfunctions and muscle imbalances you have... and pinpoint exactly what's causing your back pain or sciatica.
Then you begin your personalized self treatment program that will include Pain Reduction Strategies, the exact Corrective Exercises and Stretches you need to be doing and also Condition Specific Recommendations which target any specific condition(s) you may have been diagnosed with...
Here Are The Exact Tools You Are Going To Use To Wipe Out Your Back Pain and Sciatica...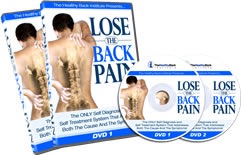 Component #1: Lose the Back Pain™ Videos
Your first step is to watch the videos... there are 2 videos and here's a quick explanation of what's covered on each:
Video 1 - On the first video you'll learn all the details about muscle imbalances and how they are causing and contributing to your pain.
Then we'll walk you thru the self assessments and help you pinpoint which physical dysfunctions you have and you'll quickly see how they are responsible for your pain.
Video 2 - Once you've identified your dysfunctions, we then walk you through the corrective exercises, stretches and self treatments that are specific to your physical condition and are necessary in order for you to rebalance your body and eliminate your pain.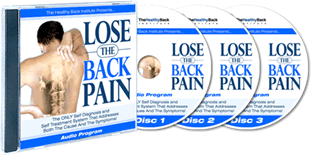 Component #2: Lose the Back Pain™ Audio Programs
In addition to the two videos, you'll also receive 3 Audio's.
Here's what's covered on the Audio's:
Audio 1 - How To Get the Best Results Using The System - On this first audio we explain in detail how to use the system and how to get relief as quickly as possible.
Audio 2 - Strategies for Reducing and Managing Pain - On this audio you'll learn about more than a dozen strategies for reducing and effectively managing your pain while you also work on eliminating the underlying cause.
Audio 3 - Condition Specific Recommendations - If you've been diagnosed with a specific condition, audio 3 will give you specific recommendations, techniques and treatments you may also want to consider. These recommendations are in addition to addressing your imbalances and are explained in great detail.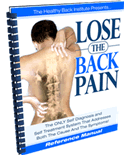 Component #3: Lose the Back Pain™ Reference Manual
Another vital part of the Lose the Back Pain System is the extensive reference manual. In addition to reviewing the information covered on the videos and audio CD's, it also covers several topics in much great detail.
Plus, all of the corrective exercises, stretches and pain reduction strategies are included in the manual so you can easily take it with you so you'll never be wondering what you are supposed to be doing or if you are doing things correctly.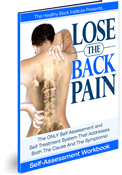 Component #4: Lose the Back Pain™ Personal Workbook
It's been proven that having a detailed plan is essential if you want to accomplish any goal. Well, getting rid of your pain is no different. That's why we created the Lose The Back Pain Personal Workbook. You'll use it to document your findings and keep track of your progress.
The workbook includes detailed illustrations that demonstrate what each physical dysfunction looks like, simple yes-no questionnaires that you'll use to determine which dysfunctions you have, a progress checklist, a pain scales chart and more. I'm sure you'll find this an extremely helpful tool in correcting your imbalances and eliminating your pain.
But Will This Work For Me?
Look, we know that you are likely feeling skeptical about this and may be wondering, "will this really work for me".
Well, the fact is, there is no way to know for sure, but chances are very good that our system will not only reduce or eliminate your pain, but completely transform your life.
And if that sounds unbelievable to you then you really need to listen to what people just like you have to say about the Lose The Back Pain System.
Please click the start button to the right to view back pain relief success stories...
Are You Ready To Live Without Pain?
We know you are and that's why you are here on this website right now searching for the one thing that will finally work for you and give you your life back...
While the system has worked incredibly well and delivered lasting relief to tens of thousands around the world, we understand that you still may be skeptical. And that's why we'd like to offer you a 30-Day FREE Trial of our system.
The system sells for $97 plus shipping and handling, but if you get started today, not only will we let you try it FREE for 30 days, but we'll even give you the following free gifts just for trying it...
Get Started Today And You'll Also Receive These Free Gifts: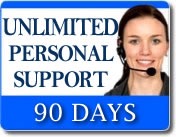 Free Gift #1: 90 Days of Unlimited Personal Support ($299 Value)
One of the reasons people get such great results using our system is because we offer unlimited personal support. So what does that mean? It means we'll work with you personally to ensure all of your questions are answered, help you as you progress through our system and give you recommendations that are based on our extensive experience but are specific to you are your situation.
Just like we have for tens of thousands of others, we will also provide you with the ongoing support and motivation that you need but aren't getting from any of your healthcare providers.
Once you begin using our system, you too will have unlimited access to our certified back pain support specialists who have years of experience helping people just like you...
"Surprised by the personal service..."

"I was really surprised by the email and phone support I received from Steve and Jesse. I had several questions about the video and the exercises I should be doing and got replies to my several emails within 24 hours. This is more than I expected when I ordered the video. I don't think there are many people like Steve and Jesse who aren't just selling videos but rather they are providing personal service to assist the people who buy the product."
George M, 76 years old - San Diego, California
Click on the play button below
You'll receive the following for 90 days at no additional cost:
Unlimited email support
Unlimited phone support
Professional Review of Your Assessment Photos and Findings
Personalized Recommendations, Motivation and Support
Consult with your healthcare professionals if necessary
You have unlimited access to us... anytime you have questions simply email or call us and we will personally answer your questions with a detailed response within 48 hours, often times much faster!
Whether you have questions about how to use our system or just general questions about back pain and your body, we'll be here for you to answer them... You can't get this kind of support anywhere... not even from your doctor!
As you can imagine, providing this kind of support and personal care is very time consuming. And because our system is being discovered by so many people around the world, we are not sure how much longer we will be able to continue to offer the unlimited support.
You can't get this kind of support anywhere... not even from your doctor!
Free Gift #2: 7 Back Pain Mistakes - Audio ($29 value)
Did you know that there are 7 mistakes that most people suffering from back pain make? It's true. And it's these mistakes that prevent most people from getting lasting relief from their pain. On this audio recording you'll learn about the 7 mistakes, how to avoid them and what actions to take if you are already making some of them. And it's very likely you are already making one or more so I'm sure you'll find this information very helpful.(downloadable mp3 file)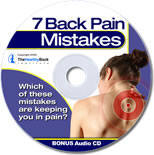 Free Gift #3:
4 Things Cause Sciatica - Audio ($29 value)
There are four primary causes of sciatica and if you suffer from sciatica you must listen to this audio CD. You'll learn what the 4 "things" are, how to find out which is responsible for your pain and the steps you need to take to get pain free. You'll also learn why there is so much confusion surrounding sciatica and about which treatments have proven to be most effective. (downloadable mp3 file)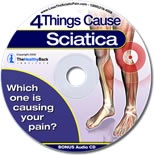 Free Gift #4:
2,000 Yr Old Cure - Audio ($29 value)
For nearly two thousand years now there has been a simple treatment for back pain that has worked miracles for millions, yet you won't find any doctors talking about it. On this audio interview you'll learn all about this little-known treatment and how it works. (downloadable mp3 file)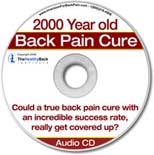 Free Gift #5:
Back Pain Treatments Reviewed - Audio ($29 value)
Ever wonder if a treatment might work for you or wonder why a certain treatment failed? Well, you'll learn that and more when you listen to this powerful audio with Steve Hefferon, CMT, PTA and Dr. Robert Duvall, DPT. Listen as they review many of the available treatments and talk about the pros and cons, which situation they work best and more. (downloadable mp3 file)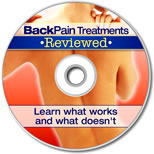 Free Gift #6:
Stretching Secrets Revealed - Audio ($29 value)
Everyone knows now that flexibility is important, but how do you stretch when you're in pain? Well, you'll learn all the secrets in this audio interview flexibility expert, Brad Walker. You'll learn about the different types of stretching, how you need to modify stretches if you have pain and how to get the best results in the shortest amount of time. (downloadable mp3 file)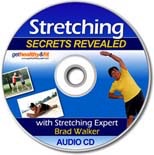 Free Gift #7:
Sleep Like a Baby - Audio ($39 value)
I also know that for many people, the pain makes it difficult to get a good night sleep. That's why I'd also like to give you a free copy of our Sleep Like a Baby special report which will not only help you understand all of the factors that affect sleep but it will also give you 8 ways to improve your sleep. Plus, you'll also get access to our Sleep Like a Baby audio which will have you so relaxed you'll have no choice but to sleep.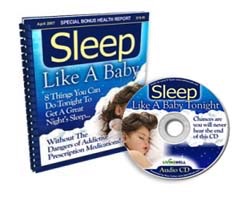 Free Gift #8:
"Lessons From Miracle Doctors" ($19 Value)
If there is one single book or resource I had to recommend to you to learn more about how to live healthy, this is it! This e-book is filled with over 180+ pages of powerful information and specific step-by-step strategies you can use right now and everyday to get and stay healthy... it's one of the most comprehensive yet easy to read and understand books on the subject of natural health. It's written by Jon Barron, the internationally recognized health and nutrition expert... and he's the guy all the other experts turn to when they have questions. This is truly an awesome resource.