This Could Be the Fastest and Longest-Lasting Method For Pain Relief
Can Finding Your One
"Trigger Food"

Cure Your Pain and Inflammation In Just Days?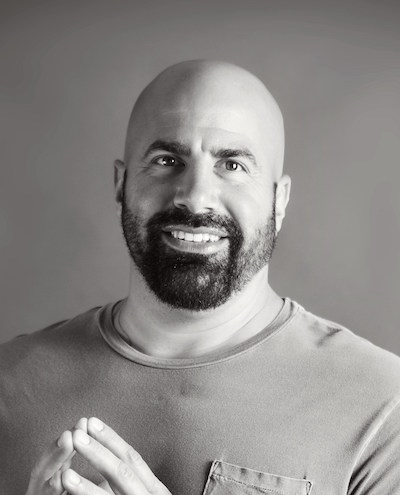 "This will change the way people look at chronic pain..."
— Dr. Christian Conte, Ph.D.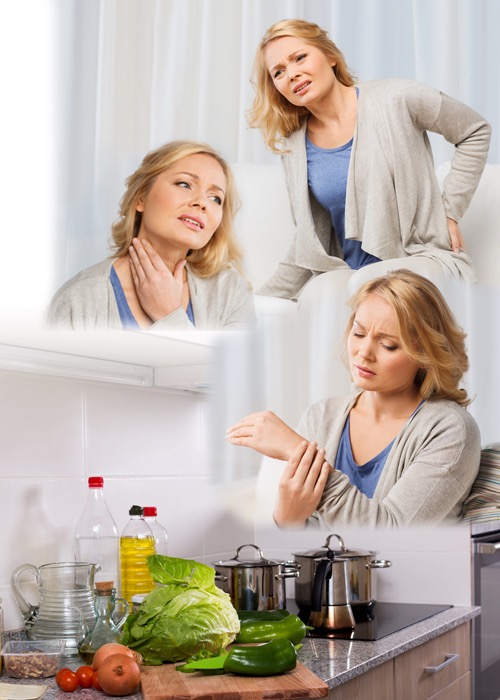 Dear Friend,
If you're in chronic pain, you've likely heard and tried just about every possible way to get out of it.
Take this pill... try this exercise... get this surgery...
But everything falls flat.
The relief comes in spurts, but the pain is always just one wrong twist, turn or stretch away.
Have you considered the true source of all of your pain can be found inside your kitchen?
Let me explain.
Did you know:
The bacteria in certain so-called "healthy foods" can trigger increased inflammation around your spine which could be the cause of your back pain?
Starting your day with this popular morning staple can increase your pain sensitivity by nearly 30%?
Or that one bowl of this popular tasty fruit reduces pain faster than aspirin and lowers inflammation by 25%?
Or that cooking with a certain type of oil can be as EFFECTIVE as taking over-the-counter pain medications?
Many folks don't realize they could be eating the exact thing that triggers some of their worst and most nagging pains.
For some, the trigger might just be one food that needs to be removed from their diet.
But once they connect the dots, and they learn to avoid these triggers, they start seeing results... in as little as a few weeks.
I'm Going To Help You Banish Pain For Good... Without The Need For Dangerous Drugs Or Risky Surgery
My name is Jesse Cannone, CFT, MFT, CPRS.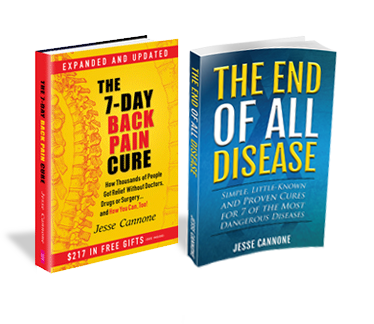 You may already know my pain history and health philosophies from my other books, The 7-Day Back Pain Cure and The End of All Disease.
Since then, I've helped untold thousand of clients rid themselves of joints and arthritis pain, and nagging back pain for good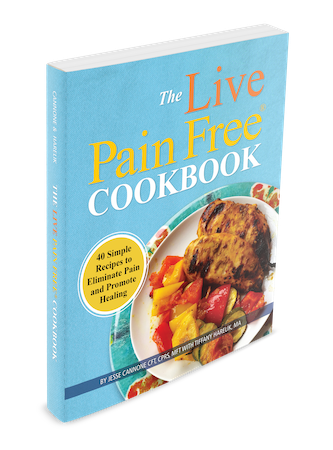 And this time, I've made it easier than ever in my new book, The Live Pain Free® Cookbook.
Inside...
I reveal the foods that trigger pain, and keep you pain free.


And I show you which foods calm inflammation and relieve pain.


And I give you an easy-to-follow blue print of pain-relieving protocols that go beyond food and diet.
The Live Pain Free® Cookbook Is MUCH MORE Than Just A Book Of Recipes
The Live Pain Free® Cookbook is a guaranteed path to getting out of pain fast. Without the drugs, treatments and added costs.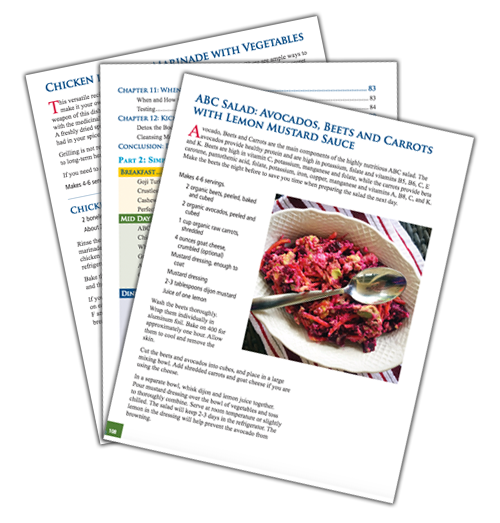 Let me be clear: this is much more than just another book with a few recipes and shopping lists.
While it includes dozens of easy to make, delicious recipes, it also helps you identify the specific trigger foods you need to avoid if you want to live pain free.
Although the source of every person's pain is different, the concepts I offer in the book are scientifically proven to help all types of pain.
They're also easy enough to use at any stage of your pain cycle and start seeing major results in just days.
You'll benefit immediately because this book focuses on one overriding concept...
Living With Pain Is NOT Normal... And There's One EASY Step You Can Take To End It Today!
You can break the pain cycle. The Live Pain Free® Cookbook shows you how faster than you ever thought possible.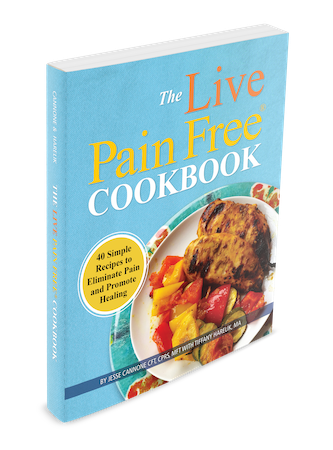 Imagine that... one simple change that is:
Requires no painful injections, weird diets or exercises
No dangerous pills or addictive painkillers
No side effects of any kind (except some weight loss and more energy!)
Works in just days
And is 100% effective when followed as laid out in the book.
What other treatment offers you this kind of assurance?
And it's not just your pain where you'll notice a difference.
The Live Pain Free® Cookbook is based around my groundbreaking Complete Healing Formula™.
The Complete Healing Formula™ is about correcting imbalances everywhere (not just dietary), which means you can expect additional benefits including...
Dramatically reduce your risk of all types of cancer
Cut your risk of heart disease and stroke by more than 50%
Improve cognitive function and prevent Alzheimer's disease
Lower cholesterol
Improve your mood and find consistent and predictable energy

100% Success Rate For Those Who Stick To This Breakthrough Pain Relief Method
The Live Pain Free® Cookbook doesn't rely on drugs, treatments or surgery.
It's also 100% effective for those who stick with it, which is why you'll likely never hear about it from the medical establishment.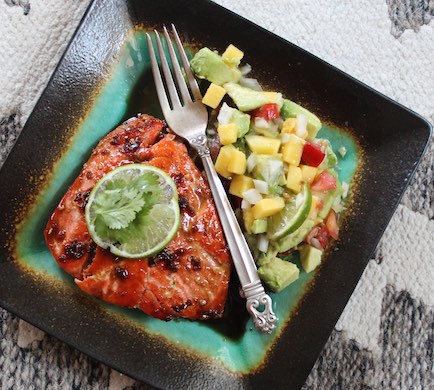 Try this easy-to-make Atlantic Salmon with Avocado Mango Salsa you'll find it on page 131 of
The Live Pain Free®Cookbook
But is it simple? Yes, it was written to be extremely easy to follow, but I'll be honest... living pain free requires some commitment.
I have worked with thousands of people to help them live pain-free lives. I know what works and what doesn't. So trust me, if I didn't think this method was doable for the average person, I wouldn't recommend it.
I personally guarantee that doing everything that's laid out in my Complete Healing Formula™ and The Live Pain Free® Cookbook is a much easier and effective option than dooming yourself to a life full of pain.
I've done everything I can to make it practical and powerful.
And it contains all of my strategies for getting AND STAYING pain free including...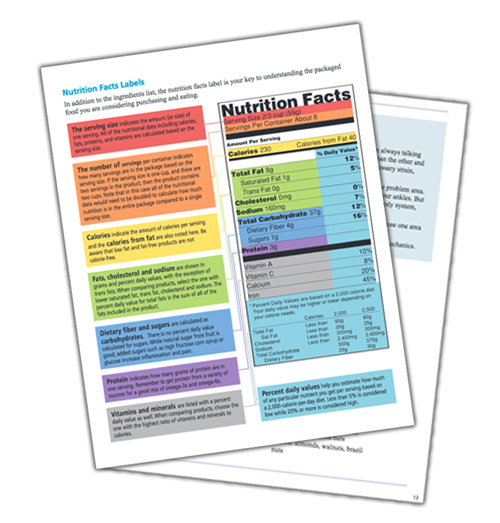 Are doctors making these mistakes with your health? What an M.D. prescribes might be working against your body's healing efforts and locking you in pain. Pg. 21
Pain-Free coffee? Discover how to turn your favorite morning drink into something that will ease your pain first thing in the morning. Pg. 106
The 4 foods you absolutely must AVOID to become pain free. Pg 72
The "A-Z" anti-inflammatory grocery list. A complete guide to picking the freshest foods, for the lowest prices at the best times of the year. Pg 84
The #1 most common TRIGGER food that could be the source of all your pain. Pg 54
The 2 different types of inflammation pain. Do you know which one is the source of your pain? I'll show you how to find out and the best way to deal with it. Pg. 11
The ULTIMATE food journal. Studies show that those who keep record of what they eat are twice as likely to stick to their plan. Here's how to create a simple food journal and exactly what to track. Pg. 76
And that's not nearly all. You'll also discover...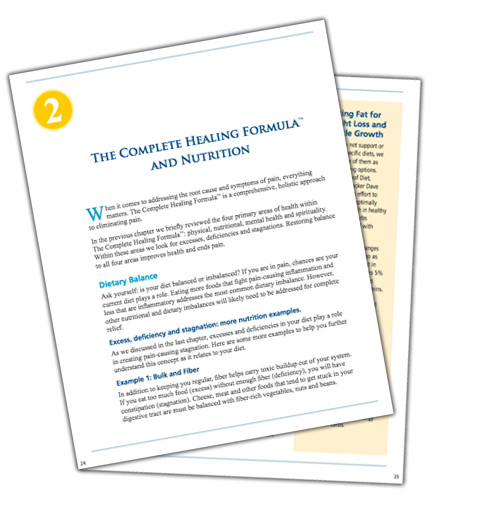 7 "quick-fix" foods for almost immediate relief of any kind of pain. Some of these work quicker than painkillers! Pg. 15
The pain-free shopping guide. I'll break down exactly how I move through the grocery store to save time, money and avoid the temptation of the junk food aisles. Pg. 79
The Top 10 inflammation causing foods. Some will shock you because they've been labeled "healthy" foods for years. I expose them ALL in Chapter 2.
Eat more food to lose pain and weight? If your diet includes a large amount of this dietary wonder food you'll see a big difference in your pain and waistline. Pg. 80
9 dinner recipes guaranteed to help you SLEEP better. Good sleep is one of the biggest factors to helping your body fight its pain responses. These recipes will leave you satisfied and ready for a good night's sleep. Pg. 119
The "sugar-free" lie peddled by the food industry. Why most of your favorite sugar-free foods have more sugar than a candy bar. Here's how to spot the truth on the label. Pg. 48
Emotional eater? 5 quick questions to ask yourself that will keep your hands off the fridge door when those cravings hit. Pg. 25
The 5 easy-to-eat foods that boost pain fighting enzymes in your body. Pg. 51
The one type of food this NFL quarterback NEVER eats. Without it, he recovers faster (he's almost 40 and still one of the best!) Pg. 42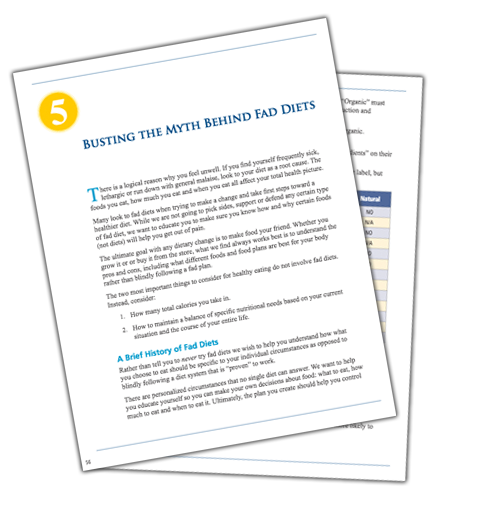 Detoxing: Not just for hippies! Your chronic pain might be a direct result of a toxic burden that's trapped in your system. Here's the easy way to flush it for good. Pg. 94
9 gluten-free alternatives that won't leave your food tasting bland. Pg. 44
Love foods like cheese, butter, beef and pizza? Learn your body's sweet spot for saturated fats and keep your favorite foods in your life while still living pain free. Pg. 48
The 13 minerals that strengthen your bones BETTER than calcium. Strong bones mean strong muscles and less pain. Pg. 39
How everyday household condiments can be combined to be a powerful and tasty pain remedy. Pg. 62
Why eating healthy does NOT mean missing out on your favorite foods. Here's how to keep them all in your diet just by changing how you prepare them. Pg. 69
8 inflammation fighting herbs and spices that save you time and money in the grocery store and boost the flavor of your meals. Pg. 61
Tired of cooking and preparing meals every day? Get the scoop on the best ways to extend the life of your food and how to store it for the best nutritional value. Pg 70
Plus...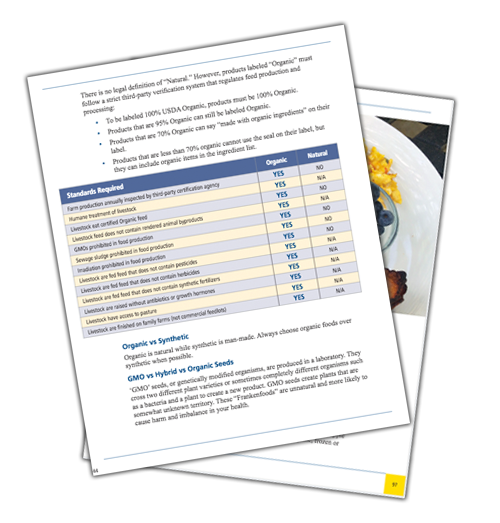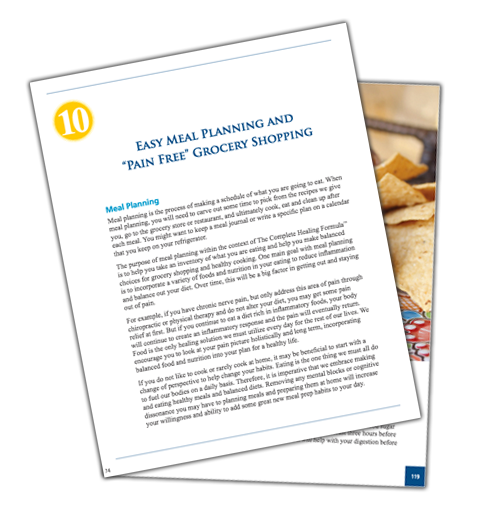 The top 7 minerals 90% of Americans are MISSING. I'll show you how to get more of these without choking down handfuls of supplements. Pg. 38
POISON pots and pans? If you cook with these types of pots and pans you could be packing your food with pain-causing toxins. See what you should use instead. Pg. 69
The warm water weight loss trick. Why drinking warm water at this time of the day will give your metabolism a big boost. Pg. 74
The 7 essential herbal teas that fight inflammation with every sip. Packed with flavor and other nutrients this ultimate tea guide will help you drink your way pain free. Pg. 75
The TRUTH about what your food labels really say. The food companies are experts at hiding what's really inside. I expose their lies on Pg. 34.
The Clean 15. Discover the 15 foods designated as OK to buy at a discount or as "non-organic." Pg. 82
PLUS! The Dirty Dozen foods that you should always try to buy from the organic section. Pg. 87
Do you REALLY know your allergies? Few realize that chronic pain IS an allergic reaction. Here's a list of the most common foods that cause painful reactions. Pg. 89
Why your FIRST meal of the day impacts your pain more than any other. Here's 6 protein-packed breakfast recipes that will keep you feeling fuller longer. Pg. 96
7 inflammation fighting lunch recipes guaranteed to keep your energy going through the day and to keep your body in a state of balance. Pg. 107
If You Like Eating And Hate Pain You Will Love This Book
I'm not asking you to change your lifestyle overnight. In fact, I'm not asking you to change your lifestyle at all, unlike some other systems and fad diets out there.
They're impossible to stick to and that's why they don't work.
I know if I had to choose between all my favorite foods and chronic pain... the choice might not be so easy.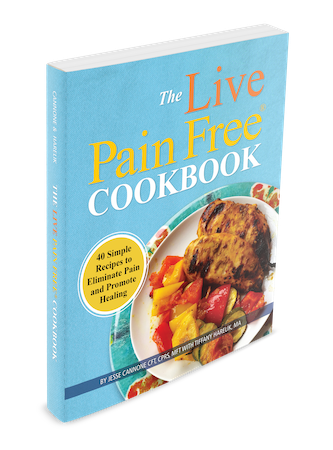 Instead, I want to give you an easy way to see once and for all that living in pain is not normal.
While we will all experience pain from time to time, consistent chronic pain (known as suffering) is something no one should ever have to accept in their life.
Doctors may tell you your pain is "chronic and progressive." And that the best you can hope for is to manage it when it's at its worst.
Instead of treating the source of your pain, they give you nothing but short term solutions.
So, as long as you'll give me the permission to do so, I'd like to put The Live Pain Free® Cookbook in your hands TODAY.
Once you get your copy of the book, you'll be immediately introduced to The Complete Healing Formula™ on page 17.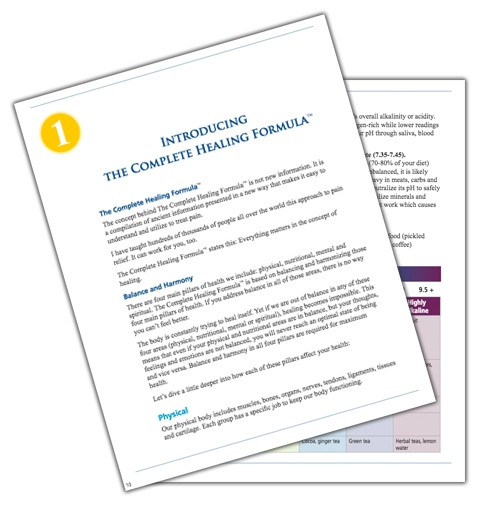 You'll find everything you need to know about the 4 Pillars Of Balanced Health so you can immediately begin to rid yourself of the imbalance that is locking you in pain.
Be prepared to see immediate results.
My guess is you'll start to see ways you can rid yourself of pain before you finish the first chapter.
And by the time you start making these simple little changes, you could see your chronic pain disappear for good.
The best part is once you've discovered The Complete Healing Formula™ and combine it with the recipes laid out in the Cookbook, you'll be able to toss out any pain medication you're currently taking.
You'll have everything you need inside your copy of The Live Pain Free® Cookbook.
Get Your Copy of The Live Pain Free® Cookbook PLUS 2 FREE Special Bonus Reports for Just $10
Just click the button below and confirm your order on our secure checkout page and you'll be rushed the downloadable PDF version of The Live Pain Free® Cookbook right away for just 10 bucks.
Let me hear from you today, and I'll send you 2 FREE special bonus reports:
FREE BONUS #2:


The Secrets of Effective Weight Loss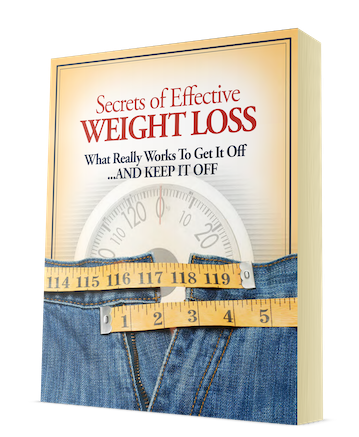 You might not realize it, but pain and excess weight go hand in hand. Sadly, too many of us try to separate our problems and deal with them one at a time.
However, just by sticking to what's already in The Live Pain Free® Cookbook, you're likely to drop some pounds without ever feeling like you're on a diet.
You can combine many of the foods in the Cookbook and live pain free while losing weight too.
In fact, a lot of them are the exact same foods which means you save time and money while becoming lighter, leaner and pain free.
Trust me, nothing is more deflating than getting out of pain for good just to realize you've got another problem to solve.
That's exactly why I'm also including my popular Secrets Of Effective Weight Loss in this offer.
It includes...
The 5 big weight loss lies that are keeping you FAT. The diet industry doesn't make money on skinny people, so instead they feed you these "half-truths" to keep you confused about weight loss. Pg. 6
The "Small Change-Big Results Trick" to lasting weight loss. This easy approach to dieting is the one thing above all others that has my clients and readers telling me, "I don't even feel like I'm on a diet." Pg. 10
Keep your favorite foods by changing your plates? Sounds crazy, but Google has been using this trick in their cafeterias for years to save money and keep their employees healthy — even if they're eating nothing but pizza. Pg 12
5 "cheat foods" that actually help BURN fat! Imagine no more guilt after sneaking in just one extra cheat meal. Learn which of these "bad" foods can get great results. Pg 13.
Being 100% pain free is going to free up a lot of your energy... and dropping weight and keeping it off will allow you to use that energy to be more active. From getting more done around the house to taking the scenic route back to your hotel on your next vacation.
By taking action now, you'll get The Secrets Of Effective Weight Loss absolutely FREE.
Remember, for just one payment of $10 you get:
The Live Pain Free® Cookbook
Access to The Complete Healing Formula™
BONUS #1: 21 Affordable Foods That Beat Pain Fast
BONUS #2: The Secrets Of Effective Weight Loss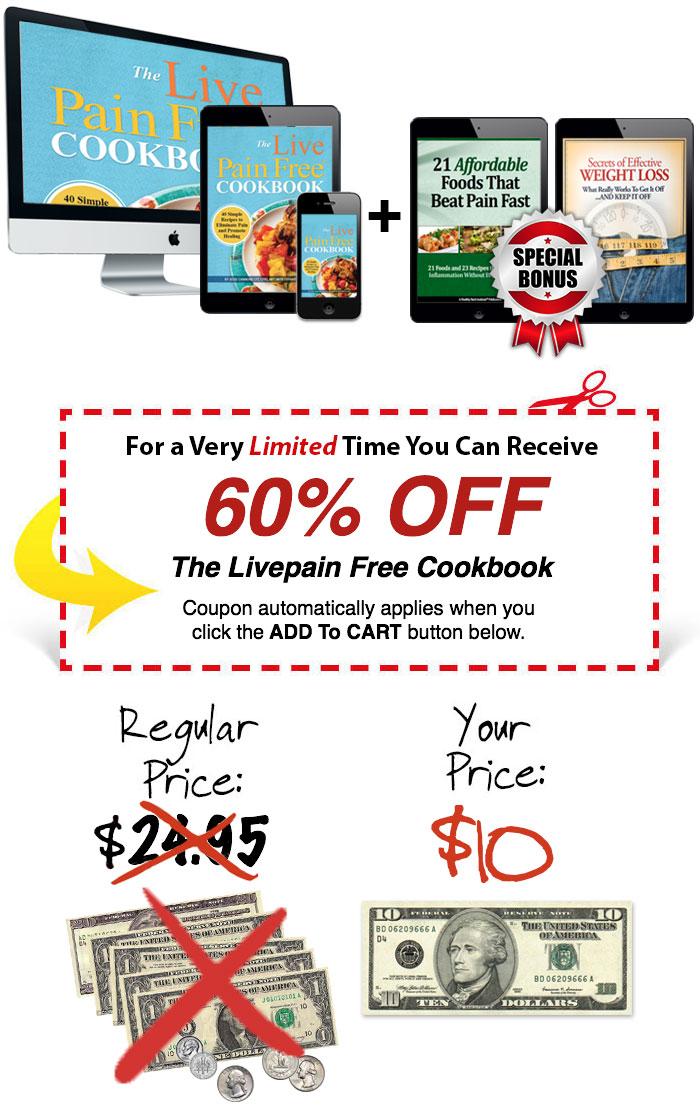 GET EVERYTHING FOR JUST $10
100% Guaranteed - No Hassle, No Questions Asked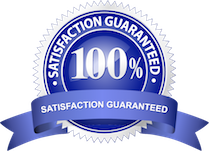 Complete satisfaction is the #1 goal my team and I strive for each and every day.
If you ever feel that we've fallen short of that mark, or if the Live Pain Free® Cookbook is just "not for you" then you can ask for a refund at any time..
(Getting a refund is easy. You can call us toll free 24 hours a day, 7 days a week at 800-216-4908... or if you don't want to talk to anyone, you can log in to your "My Account" area of our website and request a refund electronically.)
I think we can both agree that's beyond fair, and I have no problem taking ALL the risk.
If I miss the mark on anything I've promised, I'll refund your order at anytime during the first 90 days.
To get started, simply click the order button below.
Your ebook version of The Live Pain Free® Cookbook and your 2 FREE special reports will be emailed to you immediately.
P.S. — The ebook version is perfect if you like using your iPad or tablet in the kitchen. The pictures are vibrant and the recipes are easy to read on your screen. But if you'd like a printed version in addition to the ebook, it's available on the next page.
To get your cookbook, and 2 FREE bonus reports, click the order button below NOW.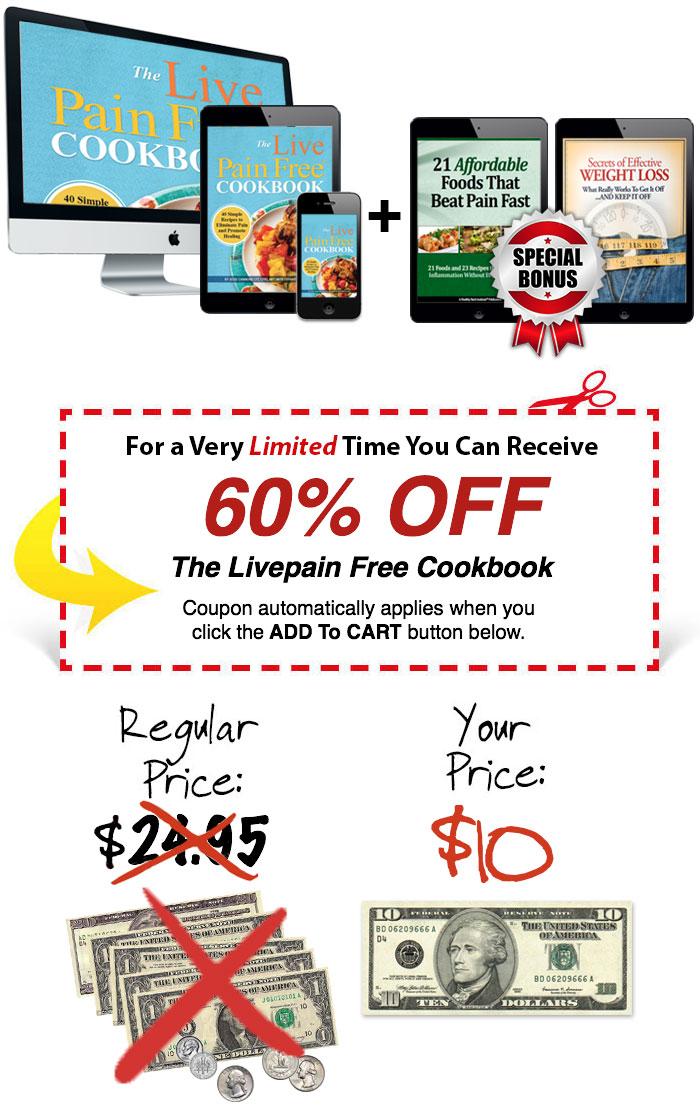 GET EVERYTHING FOR JUST $10