This is the easiest way to ease back-pain
while sitting and sit with perfect posture (even when you're not thinking about it)
The Freedom Back is the Cadillac of back support pillows. Sitting down will never put unnecessary pressure on your spine and back.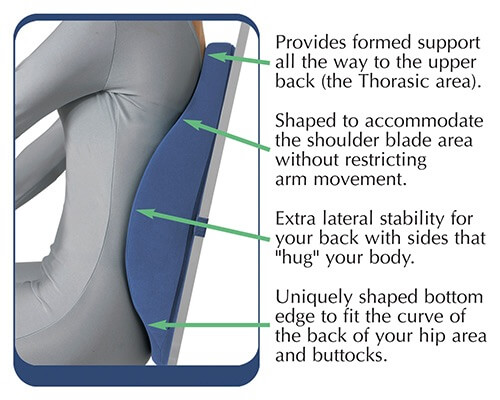 Sitting down with poor posture is terrible for your back.
It'll make any pain you have from back conditions even worse. And in some cases, like with herniated discs, it could make your conditions worse too.
Since we all spend so much time sitting, and none of us sits with perfect posture all the time, it only makes sense to make sure you're not undoing all the good things you've done to get pain relief.
Otherwise getting back-pain relief becomes a 'one-step forward, two-steps back' life-long struggle.
And that's why I recommend using a back support when sitting. The Freedom Back is far and away the best support pillow I've come across.
When most of us sit down our spine takes the shape of a "C" with our shoulders forward from of our hips. The healthy position is when our spine is shaped like an "S" but holding that position means working on our trunk muscles and remembering to sit that way.
Which is a great idea to do, but I've never met anyone who actually sits with perfect posture all of the time without a little help. The Freedom Back is the best help you can get.
I'm so sorry I have so few Freedom Back pillows to pass around today. I only received 100 from the manufacturer.
Six of them went, right off the bat, to Healthy Back Institute® staff. I feel terrible taking them away from them because they all love them so much, so that leaves me with just 94 to go around.
We're working to get more but I have to give you fair warning, it'll probably be several months before I get any more in stock so if you want one, act fast. We have over 600,000 readers and I know these are going to go quickly.
Just click here to order yours now.
Or Call 1-800-216-4908 To Order By Phone 24hrs a Day...
INTL: 240-780-5977
The Freedom Back's Unique Design gives you total
support without restricting your movement ...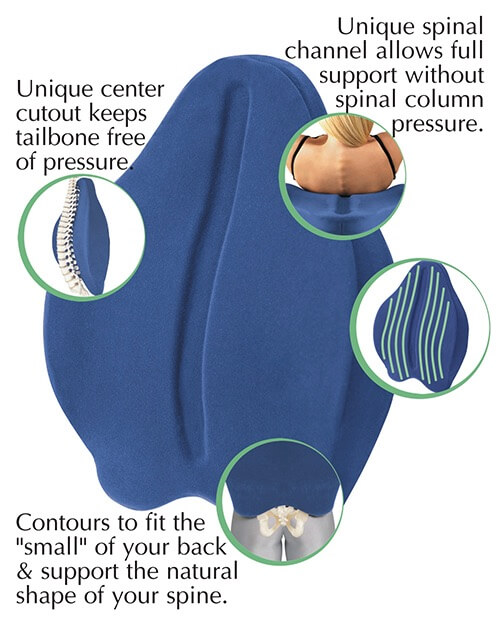 This is the ultimate in back-support comfort. The contours of the Freedom Back are designed to fit the shape of your whole back from your upper back all the way down to your hips.
The unique spinal channel gives you full support without putting pressure on your spinal column ...

You get a wide back support that wraps around your sides and "hugs" your body

You get Full-Length back support from your upper-back all the way down to your hips ...

The special cut out shape on the bottom makes sure you're not getting pressure on your sacrum ...
Every aspect of the Freedom Back has been designed around the bodies of real-people so you get comfort and support and don't have to keep adjusting it to stay comfortable.
It goes everywhere with you so you get perfect posture and
are completely comfortable whenever you sit down ...at your desk or in your car
... at home or on the go...the Freedom Back goes with you everywhere!
Not only does the Freedom Back go everywhere with you, give you total and complete back support when sitting but it's also one of the most cost-effective back-pain solutions around.
You can get yours today for just $49.95 when you click here.
US Shipping Fee $10 (Outside US $19)
Or Call 1-800-216-4908 To Order By Phone 24hrs a Day...
INTL: 240-780-5977
And of course, you ALWAYS get ® 90-Day Money-Back Guarantee
The Healthy Back Institute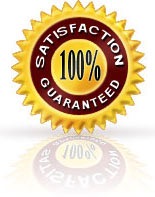 I want you to be thrilled with it or I don't want you to pay one red-cent.
So if you want to try it out, go ahead and order it. Put it to use for 90 days. If you're not dancing in the streets because you love it so much SEND IT BACK! I'll promptly refund your entire purchase price (excluding shipping fees).
I know ordering products online sometimes feels like a gamble because you can't try them out first and that's why you'll never have to worry about "what if I don't like it?" when you order from The Healthy Back Institute®.
Because I don't want you to just be "satisfied" with the FREEDOM BACK, I don't even want you to "like it" —in my book if you're not DELIGHTED with it — don't keep it!
So click here to order your Freedom Back today
But you have to act fast because of the extremely limited supply today.
Again, my apologies for not being fully stocked on these but I didn't want to wait to get this into your hands because sitting posture is such an important part of relieving back pain of all stripes.
All My Best,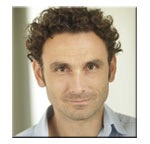 Jesse Cannone
Co-Founder, Healthy Back Institute®