Who Is Jesse Cannone And Why Should You Listen To Him?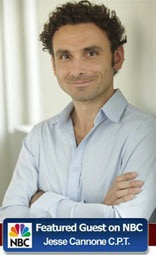 Jesse Cannone is one of the most highly recognized and most respected experts for treating back pain naturally in the world.
Since creating "The Healthy Back Institute" in 2001, Jesse has personally helped over 115,385 people in 85 countries free themselves of the shackles of back pain with all- natural, drug-free, innovative and sometimes controversial back-pain relieving methods.
His methods allow you to finally experience what it's like to live without back-pain... without ever taking harmful drugs or needing surgery!
He's been featured in dozens of newspapers and magazines such as Miss Fitness, Natural Bodybuilding, and Visage... numerous radio programs... thousands of websites and has even appeared as an exclusive back-pain expert on NBC!
Dear back pain sufferer,
If you're suffering from back pain but can still get out of your chair I have good news for you today.
In the next few minutes I'm going to show you how you can get back pain relief in seconds... anytime you want it... right at home.
If you'll take my advice you may never have to swallow another pain pill or visit another doctor or chiropractor for back pain again.
And if you already have back surgery scheduled, you just might want to put that on hold until you hear what I have to tell you today.
You see, for over a decade I've been known as the "Back Pain Expert" - but I've never stopped searching for the "holy grail" of back pain relief.
Something that would relieve back pain fast... naturally... and safely so the "cure" doesn't cause more problems than the back pain itself.
Over the years my team and I have tested literally hundreds of devices, supplements and techniques to help those in pain.
One of the most effective techniques we've ever tested is one you may have heard about before: spinal decompression.
But it hasn't always been practical for everyone.
Until now...
Scientifically Proven Pain Relief
One of the most effective methods of quickly relieving back pain - proven repeatedly in scientific studies - is spinal decompression.
It only makes sense, actually...
Nerves that serve virtually every inch of your body exit your spinal canal from between each pair of vertebrae in your back. When the space between these vertebrae becomes compressed, those nerves can get pinched.
That's going to hurt.
Yet spinal compression happens to every one of us. A fall... car accident... sports injury... sitting in a chair day after day... even the constant pull of gravity all leads to spinal compression.
In fact, it's spinal compression that causes many adults to lose as much as 2 inches in height by their later years. No wonder back pain becomes so much more common as we grow older!
But give your vertebrae a millimeter or two of extra space... just enough to ease pressure off those pinched nerves... and you can experience near instant pain relief.
That's why I've been a proponent of spinal decompression for years. In literally seconds, pressure and back pain is relieved through spinal decompression.
Here's scientific proof that spinal decompression works:

One study consisted of 175 patients experiencing back pain bad enough that they were unable to work. After just 8 spinal decompression treatments, 88.6% were able to return to their jobs full-time. In other words, just 8 treatments dramatically decreased the amount of pain in nearly everyone who tried it.
Another study tested EMG activity, indicating the amount of muscle pain. It discovered spinal decompression gave participants a 35% decrease in pain - in as little as 10 seconds! This proves you can experience near-instant pain relief with spinal decompression...
Spinal decompression was also credited with a 33% decrease in sick days due to pain back... plus a noticeable drop in pain throughout the entire year.
And a recent study at New Castle University found that 70.5% of patients were able to cancel their scheduled back surgeries - again, thanks to spinal decompression.
One thing I should mention is those studies all used inversion tables. Which is great except for one little problem:
NOT EVERYONE CAN - OR SHOULD - HANG UPSIDE DOWN.
Now you don't have to.
All You Have To Do Is Lean Into It
Inversion tables uses gravity to decompress your spine by reversing the direction gravity pulls on it.
Now there's a better way. Let your spine decompress itself in one simple stretch.
Introducing the Back Ease - Spinal Decompression System.
No turning upside down like old fashioned inversion tables.
No expensive doctor visits for overpriced machinery.
Simply lean into the Back Ease - Spinal Decompression System and you get fas t back pain relief - any time you want it!
It really couldn't be any simpler...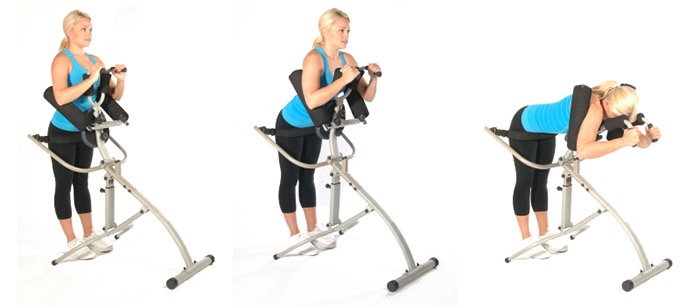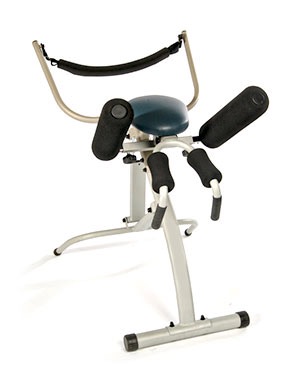 Step forward until the belt fits comfortably against your waist.
Raise the two handles to bring the pad up to your chest and rest the back of your arms on the arm pads.
Relax forward into a gentle stretch. Near instant - and lasting - pain relief!
You're always in complete control of how much pain relieving spinal decompression you get.
The more you lean forward, the more traction you get from your neck, across your back and down the back of your legs.
The chest and handle supports ensure you never go farther than you're comfortable.
And as you can see, there's absolutely no hanging upside down. No stress on your knees like kneel-in devices. And best of all, no doctor bills!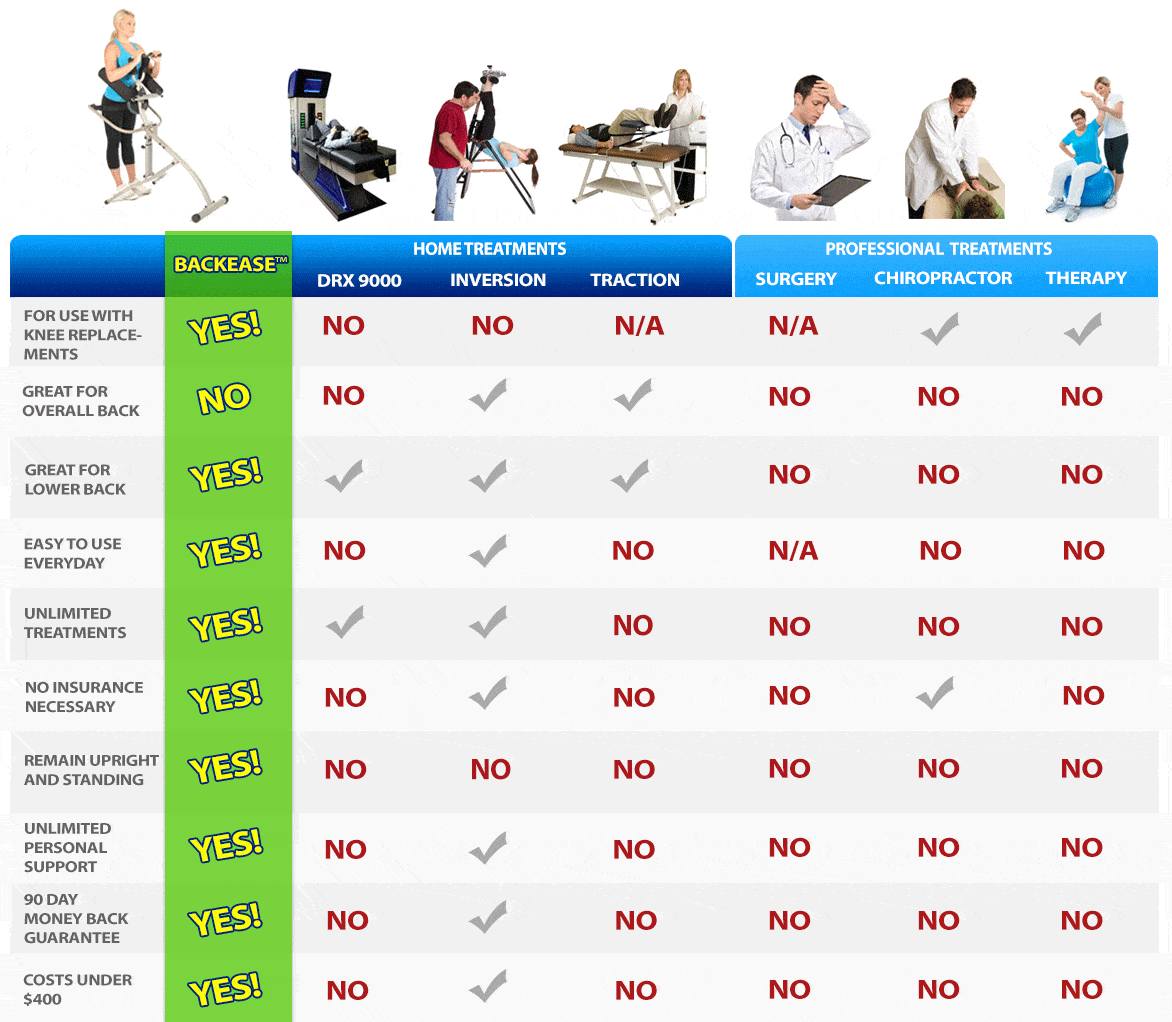 Give Your Spine What It Needs To Heal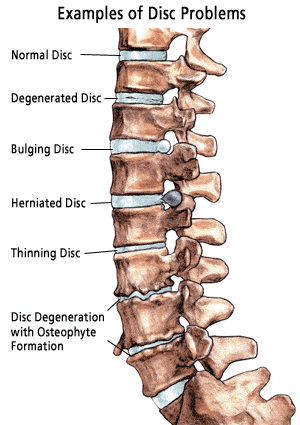 Imagine a dried up sponge.
It's hard, inflexible and even slightly brittle.
Now imagine pouring a glass of water over the top of that sponge. Visualize the sponge filling up with water as it expands and becomes softer, more flexible and... well... more "spongy."
This is exactly what your spine is doing every single day.
You see... as you live your everyday life... gravity is literally squeezing water out of your discs - much like what happens if you slowly apply pressure to a wet sponge between your hands.
As more and more pressure is applied to your discs (through walking, gravity and other everyday activities) - less and less water can flow through and apply the "sponge-like" effect to your discs.
Without that water... your discs get thinner and thinner... causing pressure, pain and stiffness in your spine.
And as you've experienced first-hand... it hurts!
Without water in your discs to help absorb the pressure on your spine caused by gravity as well as normal wear-and-tear on your body each day... the degeneration in your spine leads to pain.
And...
... as we age our bodies become less able to fill our discs with that necessary "cushioning-water" - which is one of the main reasons your back is killing you.
Here's the great news.
The Back Ease - Spinal Decompression System eliminates that problem.
As you lean forward in the Back Ease - Spinal Decompression System... it decompresses and stretches your spine, creating a separation in your vertebrae, relieving pressure on your spinal discs and nerves.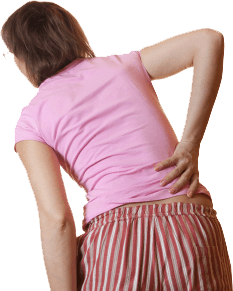 Within just seconds on the Back Ease, you'll feel the best stretch in your back you've ever felt!
The separation allows nutrient-rich fluid to circulate within the vertebrae (which your body then uses to heal itself) and allows your discs to "re-absorb" the water gravity is sucking out of them - as we just talked about.
My guess is... you've already "TRIED" to stretch in this exact same way by yourself.
Think about it.
What do YOU do when your lower back hurts?
The natural tendency is to bend at the waist and lean over, trying to stretch your back and get relief, like the picture to the left.
However... as you've seen with your own eyes when trying to do this - it's virtually impossible to get the stretch you're looking for because of the way your body is built.
That's where the Back Ease - Spinal Decompression System takes over... allowing you to FINALLY discover...
FAST (Sometimes Instant) Pain Relief... Plus Its Minimizes The Chance For Future Flare-Ups!
Because of the unique way in which the Back Ease - Spinal Decompression System lengthens and decompresses your spine... you'll experience relief in 2 different ways.
Short-Term Relief - One of the biggest causes of back pain and sciatica is the combination of excess pressure on the discs (spinal compression), dehydration and mineral and other nutritional deficiencies. Over time our muscles get so tight that the pressure on the discs remains constant leading to an early deterioration of the discs and issues like bulging and herniated discs.
Through its unique stretching effect, the Back Ease - Spinal Decompression System creates a negative vacuum in your spine... creating just enough pressure to "suck" your disc back into the spot it SHOULD be in, which pulls the disc off the nerve and relieves your pain - sometimes instantly (eliminating the pain instantly doesn't happen every time...however it DOES happen... I've seen it with my own eyes).
Long-Term Relief - That same negative vacuum in your spine allows nutrient-rich fluid to shoot back into your discs and around your spine like a slingshot. Gravity normally squeezes this fluid out of your discs throughout the course of the day...
... and when the Back Ease - Spinal Decompression System stretches and decompresses your spine, it creates more space between your discs... allowing a flurry of water and nutrients to enter the disc (bringing you pain relief thanks to the "cushioning" effect of water in your discs).
I still can't claim this is the "only" treatment you'll need to keep your back healthy and pain-free for the rest of your life, since back pain is nearly always caused by a combination of underlying causes like muscle imbalances, trigger points, nutritional deficiencies and excess negative emotions and stress.
However you should know this:
The Back Ease - Spinal Decompression System is a device I personally recommend everyone use (even those without back pain) due to its amazing ability help improve and maintain mobility... correct alignment from your shoulders down through your spine to your hips... as well as heal and strengthen your spine over the long term.
And I'm not the only one who recommends it.
Approved By Our Entire Medical Advisory Board!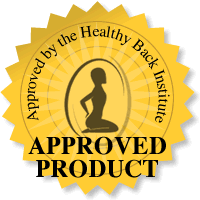 Before I ever recommend a product to my customers and clients... I gather my team of experts to put the product under the microscope to be 100% certain it's perfect for our customers.
The Back Ease - Spinal Decompression System is no exception.
Our advisory board consists of seven of the most highly recognized and sought-after experts in the back pain and fitness industries... and let me tell you... we are VERY stringent in the products we choose to tell you about!
So let me take a second to introduce you to our team of experts... all of who wholeheartedly approve the Back Ease - Spinal Decompression System for back pain relief in both the short- and long-term.