Is Back Pain Ruining Your Golf Game?
FREE Book Shows You How To Quickly Get Rid of Your Nagging Back, Neck, Shoulder or Elbow Pain In as Little as 7 Days...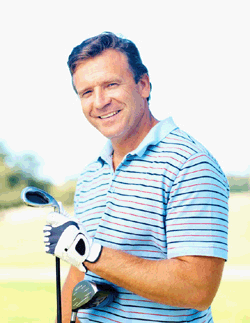 It's a beautiful Saturday morning...
The sun is shining and you're smiling from ear to ear because you're about to kick off the weekend the best way possible...
By playing 18 holes with your buddies.
It's your turn... you grab your favorite driver and approach the tee... You get your feet set and your grip just right as your buddies wait patiently for your windup...
You pull back and rotate, ready to crush the ball and swing through... then, just at the end of your rotation, you feel it...
A jolt of pain shoots up your spine like a lighting bolt!
Instantly you know the rest of your game is likely ruined and the next few days are going to be rough. The last time this happened, you couldn't even finish.
You ask your buddies to "get the cart" as you know there's no way you can walk the 18 holes. They call you "gramps" and holler "let's go old man" as you hobble around the course the rest of the day.
This time you are able to "tough it out" and you shoot 10 over your usual but that's not what's on your mind...
You're worried about how you're going to get through the next few days... You're beyond frustrated because every time you feel like you're finally in the clear, it happens again...
You're sick and tired of the damn aches, pains and injuries... not only causing you pain, by keeping you from getting better at the game you love.
You spend the weekend in bed... with an ice pack... frustrated and in pain... wondering when it's going to happen again next.
Sound familiar?
It's a story I hear from golfers every week. But it doesn't have to be that way...
In fact, I've helped thousands of golfers, and tens of thousands of others, to finally get lasting relief from back, neck, sciatic pain and all sorts of other injuries...
And most of the people I've helped had "tried it all before", many had even had one or more surgeries which of course failed to fix the underlying cause of the pain...
And these people did it simply by following the step-by-step action plans in my book, "The 7-Day Back Pain Cure" which you can find in book stores, buy on Amazon or, for a limited time, get a completely FREE copy...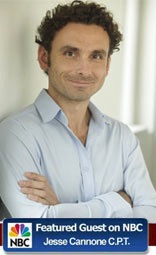 You're going to receive a print copy of the latest edition totally free. You just cover a small shipping fee and we'll mail your copy out right away.
But first, who am I and why the heck should you listen to me...
My name is Jesse Cannone and I am a certified fitness trainer, nutritionist and post-rehabilitation specialist.
I'm also co-founder of the Healthy Back Institute and in the past 10 years my team and I have helped tens of thousands of people to finally get lasting relief from back, neck, sciatic pain and more.
When you follow the simple, step-by-step action plans in my book, you can be free from pain in literally just days...